As a new user, you can claim the TonyBet bonus code after meeting the T&Cs, but you need to create a TonyBet account first. This article aims to discuss the processes involved in TonyBet registration, an online bookmaker offering sports betting services.
TonyBet Registration Step-by-Step Guide
Opening a TonyBet account in Kenya is seamless, and your account can start running within a few minutes. It is the first step to accessing the betting platform. Here is a step-by-step guide on how to complete your registration on TonyBet.
How to register at TonyBet Kenya?
Visit the TonyBet Kenya website.

Check the top right-hand corner of the page and click the "Sign Up" tab.

After clicking the "Sign up" button, the website will direct you to a page.

You will need to fill in your details.

Enter your phone number.

You will be sent a confirmation code via SMS after filling in your phone number. Enter the confirmation code in the space provided.

Then enter a password that you can remember easily.

Re-enter the password.

Then click in the box at the bottom of the page to agree to the company's Terms and Service and Privacy policy.
Lastly, click on the "Register" icon at the bottom of the page to complete your registration.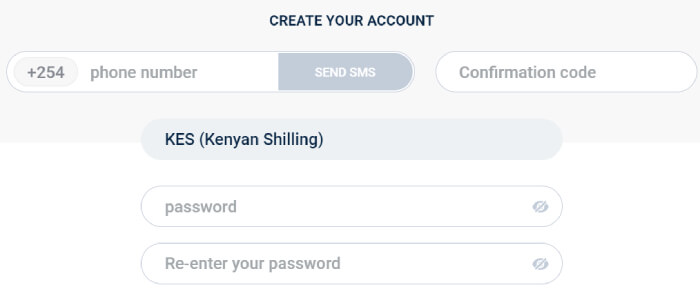 ---
Contents
---
TonyBet Mobile Registration
TonyBet registration via mobile is the most accessible means of betting for bettors. There's a TonyBet mobile and desktop version of the website, but the explanation will be on the mobile registration of the website.
Unfortunately, TonyBet does not offer a mobile app in Kenya. However, you're up for an exciting experience with the mobile version by using your phone browser.
Here is a step-by-step guide to registering an account on TonyBet via mobile.
Enter the TonyBet website in your mobile phone browser.
Locate the "Sign Up" button at the top of the homepage and click on it.
The website will direct you to another page where you will be required to provide your details.
Enter your phone number in the space provided and click on the "Send SMS" icon. The betting platform will send you a confirmation code. Enter the code in the provided space when you get it.
Input your password and re-enter it.
Then click in the box below the password space to agree to the website's terms of service and privacy policy.
Click on the "Register" icon at the bottom of the page to complete your registration.
TonyBet Sign Up Offer
The TonyBet sign up offer is a sports betting bonus awarded to new customers upon registration on the website. They will need to meet all the welcome bonus terms and conditions to claim it, of course.
How to Verify a TonyBet Account? 
TonyBet, like the majority of reputable online bookmakers, may ask for proof of identification before accepting your wagers. The following documents may be requested to verify a player's identity on TonyBet.
Passport ID
Driver's Licence
National identity card
Current Tax bill
Utility bill (not more than 3 months)
Bank statement (last 3 months)
There's no way to avoid verification because you will be required to produce your ID before making your first withdrawal. Players who fail to provide requested documents within 30 days of the request may have their account closed and their winnings forfeited.
TonyBet Registration Requirements
Below, you can find some of the most important requirements new customers need to meet in order to open TonyBet account.
Legal Age
What are the necessary things to do or have to own an account with TonyBet? First, you must be of legal age to have an account, i.e. you must be 18 years old. Also, you must have a valid phone number when registering with TonyBet, as the operator will send you a confirmation code to your provided phone number during your registration process.
One Account Only
Users are only permitted to have one account at a time. If users try to open more than one account, they risk having all of their accounts suspended or canceled. On your registration form, you must enter all the required details. Your responsibility is to ensure that the information you provide is correct and complete.
Required Documents
In addition, the operator can request further information even after creating your account. Your account may be restricted or deleted if you do not provide the required information or documentation.
Prohibited Location
Your account will be disabled/closed if TonyBet discovers that you are accessing services from a banned country. So you must be in Kenya to use the betting platform. However, the operator may also refund any remaining balance in your account at the moment of closure.
Weak Internet Connection
Furthermore, you have to have access to a considerable strong internet connection to register an account.
Why Should I Register at TonyBet?
With TonyBet, you stand to enjoy a thrilling betting experience. Registering an account on TonyBet is easy and fast. Also, you can create your account in just a few steps.
Here are some of the reasons you should register at TonyBet.
Massive Betting Markets
TonyBet provides a variety of sports, including football, Tennis, Basketball, Table Tennis, Ice Hockey, Volleyball, Baseball, American football, and Handball. You can also wager on Aussie Rules, Badminton, Biathlon, Bowls, Boxing, Counter-Strike, Cricket, Cycling, Darts, Dota 2, and E Soccer.
Other sports available include Formula 1, Formula E, Futsal, Gaelic Hurling, League of Legends, MMA, Pesapallo, Rainbow Six, and Rugby. If you have an interest in Ski Jumping, Snooker, Squash, StarCraft, Stock Car Racing and Waterpolo, the sportsbook is also for you. You also get to bet on your favourite leagues and tournaments like the Premier League, World Cup, Champions League, Europa League, etc.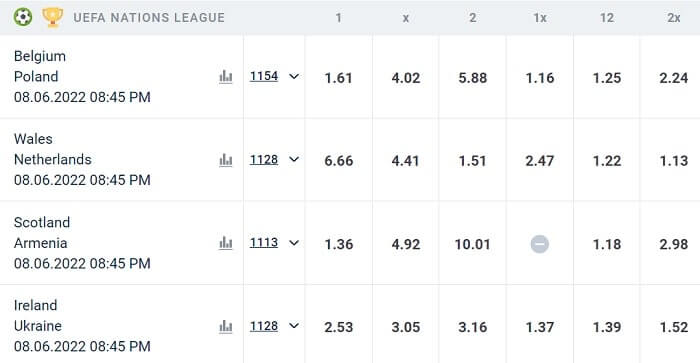 User Experience
The website is one of the easiest to use and navigate, and it has a contemporary feel. In addition, the site is fully compatible with mobile phones, making it simple to place a wager even when you're away from home. As a result, the website offers a great user experience.
Reliable Payment Methods
The website offers reliable and safe payment methods. You can make deposits or withdrawals using payment options available in your region on the platform. The first time you request a withdrawal, the betting operator may request that you upload your documents for verification.
The process is a means to safeguard your account from fraudsters, and the support team will be available to guide you through the verification process. Withdrawal processes are swift, and you get your payments within 24 hours. However, some payment processes can take up to 7 business days depending on the payment method used.
Legality
TonyBet Kenya is secured and licensed by the Betting Control and Licensing Board of Kenya. So you are safe when you register an account with the platform. You can also be certain that your details are secured. Read the website's privacy policy and terms and conditions to find out.
Customer Support
Also, you can easily access the customer service via live chat or email, and they give a quick response to complaints. The bookmaker also provides a FAQ section to answer common issues that bettors might face.
How to Login at TonyBet?
After completing your registration, the next step for bettors is to deposit funds and start placing bets. So how do you do this? First, you need to log in to your account to access the numerous features on the betting site.
Below is a guide on how to log in at TonyBet Kenya.
First, enter the website's URL on your phone or computer.
Then locate and click on the login button at the top right-hand corner of the page.
Enter your phone number and password correctly.
Then click on login and start placing your bets.
The login page has a 'forgot your password?' button to help you recover or change your password when you can't remember it.
Problems With Tonybet Registration?
The TonyBet registration process may not always go smoothly for some people. Some issues may cause your TonyBet sign up to be delayed or rejected. Some of the difficulties you may encounter include the following.
Problem with Verification Documents
There is a chance that your verification documents will be rejected at the outset. One of the reasons could be that the image or photo of your ID isn't clear. Another reason could be that the rejected documents are outdated or otherwise invalid.
Slow Internet Connection
If the site is slowing you down, the first thing you should do is clear your browser's cookies. Also, make sure your internet connection is strong enough before attempting to register with TonyBet.
Restricted Access to TonyBet
It's not possible to register, deposit, or place bets on TonyBet from restricted countries. It is better to seek another reputable sportsbook instead and open an account there if TonyBet is unavailable in your country.
The TonyBet registration process has been simplified to appeal to all new customers. Joining should be problem-free for you. Although most problems are caused by user error, their customer service team is always ready to help. Contact TonyBet's customer care team to help you if you are having problems with signing up.
TonyBet Registration FAQ
You can now see that registering an account on TonyBet is seamless. Here are the frequently asked questions about TonyBet registration that you can find helpful.
Who can register at TonyBet Kenya? 
Only Kenyan Players who are at least 18 years old can register at TonyBet Kenya. TonyBet will suspend your account if the betting operator finds out you registered on the betting platform outside this region.
Why can't I register at TonyBet? 
If you're unable to register at TonyBet, it can be for various reasons. For instance, you won't be able to sign up if you're not up to 18 years old. You also might not be able to register on TonyBet if you provide false information during registration or if the website discovers that you already have an account with the platform.
Your phone number can also hinder your registration, so you must provide a registered phone number. Also, you can only register an account if you are in Kenya.
How to contact TonyBet customer service? 
TonyBet has a 'Contact Us' section at the bottom of the home page. You can reach the customer service via an email address provided by the betting site. You can also use the live chat feature to contact a customer agent to address whatever issues you might be facing on the platform, and they respond swiftly to customers.