Our BetAfriq registration guide details the steps to create an account on one of the most prominent betting sites in Kenya. Upon completing your registration on the BetAfriq website, you will be able to access a wide range of sports, jackpot games, and exclusive bonuses.
Verified on 05 October 2023
Odds booster available
Live sports betting
Responsive customer support
How to Open a BetAfriq Account in Kenya?
BetAfriq registration can be completed in a minute by following these simple steps.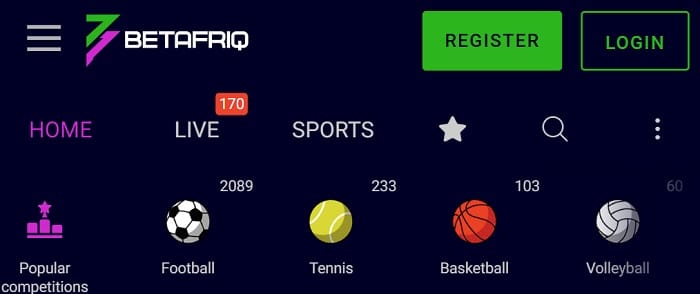 ✅ Visit the official BetAfriq website via your web browser on mobile or desktop to access the BetAfriq registration page.

✅ A green register button can be found at the top of the BetAfriq homepage. Begin by finding it and clicking on it.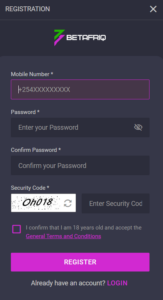 ✅ Supply your personal information, including entering your Kenyan phone number. Also, maintain a secure account by creating a strong password that combines letters, numbers, and symbols.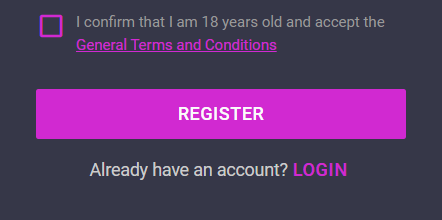 ✅ In the next step, simply enter the verification code displayed on your screen in the space provided next to it and accept its terms and conditions.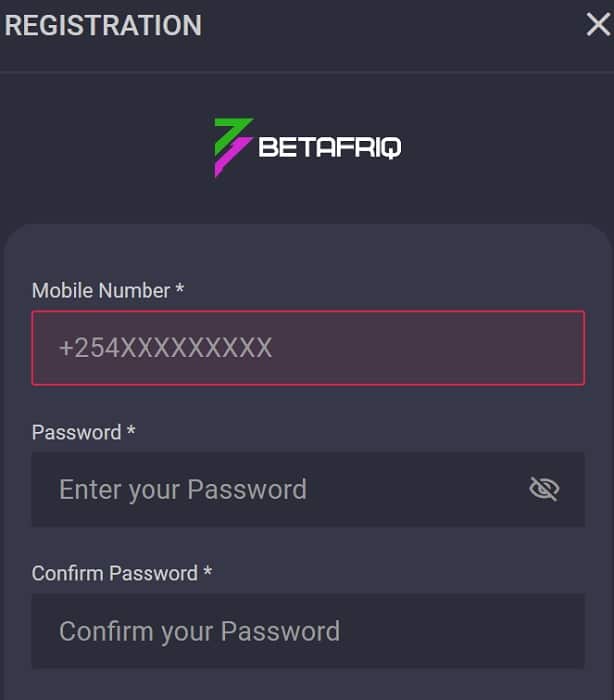 ✅ Click the "Register" button to finalize the BetAfriq registration process.
Upon completing these steps, you can fund with any amount and begin to stake on sports, jackpot games and other betting events on BetAfriq Kenya.
BetAfriq App Registration
For easier BetAfriq registration and to personalize your experience, download and install the sportsbooks mobile app on your mobile devices. The app brings unlimited betting features to your fingertips, and here's how you can complete the BetAfriq app registration process without stress:
How to register on BetAfriq app?
Download and Install the BetAfriq App

Start your BetAfriq mobile betting journey by downloading and installing the official BetAfriq app on your mobile phone.


Launch the App and Click "Register"

Proceed to open the installed BetAfriq app and click on the "Registration" button boldly displayed on the app's interface.


Fill in Your Details

BetAfriq app registration does not require luxurious information other than your Kenyan phone number, which becomes your unique identification number. Also, craft a secure password to keep your account safe.

Enter the Verification Code

After the password section, you will see a unique security code. Carefully write the security code in the space provided next to it.

Agree to BetAfriq Terms and Conditions

Placing a bet on the platform requires a mutual agreement. Tick the box to confirm that you are 18 years old and agree with the betting terms and conditions.

Click "Register"

The final step is for you to click the "Register" button, and you are done.
Fund your account with any amount of money and place a bet on your favourite sports or jackpot on the platform anywhere, anytime.
BetAfriq Registration Bonus
Upon completing the BetAfriq registration, you will be welcomed with a 100% first deposit bonus of up to 22,000 KES. To get your bonus account loaded with this unique BetAfriq welcome bonus, simply complete your details in "My Account", deposit a minimum bet amount of 100 KES, and receive a 100% first deposit into your bonus account automatically to boost your bets on sports.
Get a 100% Deposit Bonus of up to 22,000 KES.

18+. Make a deposit of at least 100 KES. The maximum sports betting bonus is 22000 KES. The wagering requirement will be 5x the bonus amount in accumulator bets. Each accumulator bet must contain at least three selections. At least three selections in each accumulator must have odds of 1.40 or higher. Ful T&Cs apply.

Visit site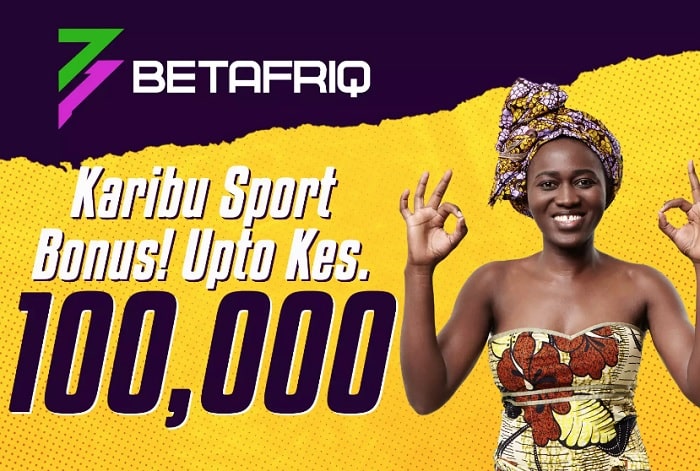 How to Verify the BetAfriq Account?
To place bets on the platform, you need a verified account. Verifying your account guarantees that you stay out of trouble with your beloved sportsbook.
Without any delay, verify your BetAfriq account by completing these simple steps.
Log in to your BetAfriq account.
Access the "My Account" section.
Locate and select "Account Verification."
Follow the instructions to provide necessary documents, such as identification and proof of address.
Upload the required documents as instructed.
Expect the BetAfriq team to verify your account.
Once approved, enjoy a fully verified and hitch-free experience as you bet.
Note that an updated account is also required to access the registration bonus and other promotions.
BetAfriq Kenya Registration Requirements
BetAfriq registration in Kenya is very easy to complete provided the customer meets up with some basic requirements. These requirements are nothing complex, but basic information to help BetAfriq know you better and for you to experience the full features of the betting site without issues.
Let's delve into the key elements that ensure a smooth and successful registration process.
Valid Kenyan Phone Number
Every customer needs a valid Kenyan Mobile phone number to complete their registration. The betting site has simplified the process by making your phone number your unique identity.
It will be required at the point of registration, and it will be used to identify you throughout your engagement on the platform.
Age Restriction
Make sure you are of legal gambling age in Kenya, which is typically 18 years or older.
The Kenya Betting Control and Licensing Board (BCLB) rules against underage betting. Hence, you will be required to confirm your age at the point of registration.
Kenyan Nationality
BetAfriq Kenya is a platform dedicated to serving the betting needs of Kenyan citizens. Only a Kenyan phone number is permitted at the point of registration, and the accepted currency is Kenyan shillings.
At any point, BetAfriq might request you to submit proof of Kenyan nationality or risk account suspension.
Secure Password
Create a strong password that combines letters, numbers, and symbols. This safeguards your account against unauthorized access.
This is made a mandatory step for all customers before completing the sportsbook's registration process.
Personal Information
Your personal information helps BetAfriq to know you better and prevent any fraudulent activities on its platform.
Provide accurate personal details, including your full name and date of birth. Ensuring correctness here is vital for account security and verification.
Verification Documents
To comply with BetAfriq's legal and security measures, you'll need to submit identification documents such as a copy of your ID or passport.
Additionally, proof of address might be required. This serves as part of the immediate steps to complete your registration on BetAfriq.
Minimum Deposit
While completing the registration steps, the website welcomes new users with a unique welcome bonus.
To activate this offer, you need to fund a bet amount of at least 100 KES. Once that's done, you can use the money to stake on your desired games.
Why Should I Register at BetAfriq Kenya?
Our BetAfriq review is not complete without highlighting why BetAfriq Kenya is the choice of thousands of Kenya Bettors.
Depending on each customer's needs and preferences, different things make a sportsbook the bettor's choice. However, BetAfriq ticks many of those boxes, as we will show you below.
Diverse Sports Betting and Casino Options
BetAfriq provides an extensive range of sports and events to bet or stake on, along with an engaging casino experience, catering to various interests and multiple bet options.
Welcome Bonus and Other Promotions
Along with the unique welcome bonus for new users on sports and casinos, existing users can also access exclusive promotions such as the BetAfriq booster bonus on multiple bets, 20% cash back on your bets, 10% VIP casino cashback etc.
Mobile App and User-Friendly Interface
All BetAfriq offering both on the website and mobile app are designed with the users in mind. The mobile app blends convenience with personalized service while you stake on your favourite game 24/7.
Live Betting
Get yourself into the full game mode by engaging in live betting while the game unfolds before you. Also, virtual sports are available to meet the bet need of customers that likes fast-paced games.
Secure and Licensed
BetAfriq Kenya is licensed by the Kenya Betting Control and Licensing Board (BCLB) to operate full sports betting services in Kenya.
Customer Support
BetAfriq brings its service closer to its customers by maintaining responsive customer support. They can be contacted via email, phone number or WhatsApp.
Convenient Payment Methods
Making payments and withdrawing your money on BetAfriq is super easy with the use of M-Pesa, a popular mobile money operator in Kenya.
How to Log in to BetAfriq?
Logging into your BetAfriq account is a straightforward process, as outlined below:
Access the BetAfriq website using either your phone or desktop browser. More simply, launch the BetAfriq app.
Locate and click on the "Login" button located at the top right-hand corner of the homepage.
Enter your registered Kenyan phone number and password in the appropriate space provided.
Finally, use the login button to gain access to your account and place bets on your favourite sports, jackpot, and casino games on the platform.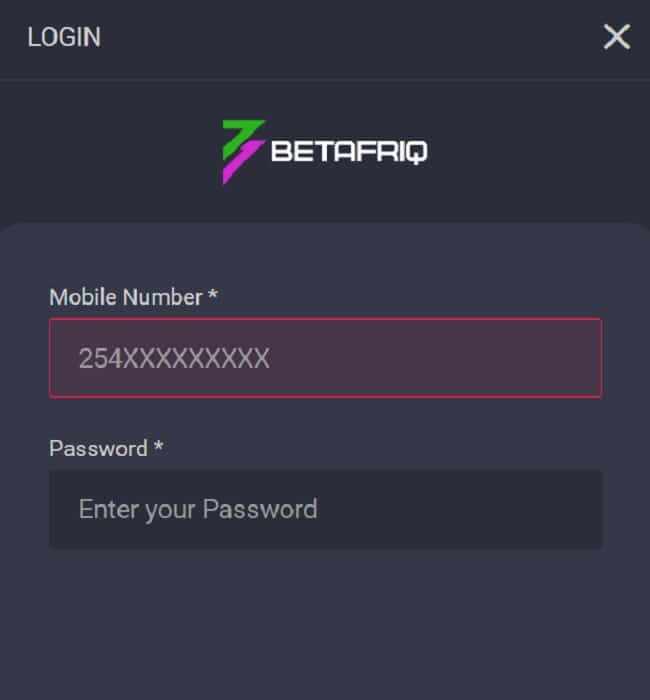 If you mistakenly forget your password or registration phone number, and you are not able to gain access, simply recover your password by clicking on the forgot password button.
Repeat the same process if what you forgot is your username. The system will help you regain access to your betting account.
Potential Problems with BetAfriq Registration
The BetAfriq Kenya website and mobile app are 100% always. If you have any registration challenge, it could be due to any of these reasons.
Phone Number
A valid Kenyan phone number helps BetAfriq to uniquely identify customers. Hence, an invalid or unregistered phone number will result in failed registration.
Password
Password selection at the point of registration must meet with desired regulations. Ensure your password includes a combination of letters, numbers, and symbols.
Existing Account
Attempting to create multiple accounts is a violation of the terms of use, and it results in account suspension or closure.
Connectivity
Poor internet connectivity or technical glitches may disrupt the registration process. Ensure a stable internet connection before proceeding.
Terms and Conditions
Not agreeing with BetAfriq's terms and conditions simply means registration can not be completed.
Personal Information
Providing incorrect personal details such as name, date of birth, or phone number could lead to verification problems and hinder successful registration.
Age Restrictions
If you're under the Kenyan authority legal gambling age of 18, your registration will not be allowed.
BetAfriq Registration Kenya – FAQ
Complete the BetAfrq registration and your account will be activated automatically. Ensure you've provided accurate information and completed any necessary verification steps.
Log in to your account, visit the "Deposit" section, choose the M-Pesa payment method, enter the deposit amount, and follow the prompts to complete the transaction.
Yes, BetAfriq registration is absolutely secured. They employ encryption and adhere to regulatory standards to safeguard your money, and personal and financial information.
Our BetAfriq Registration Review
Online Registration

Mobile Registration

Welcome Bonuses