Tonybet prediction involves foretelling the outcome of future sporting events on the website to win cash prizes and other rewards.
What are Tonybet Predictions?

Assan
Yield: 4.34%
East Fife
vs
Annan Athletic
Annan Athletic to win or draw
This is an upcoming football match from League Two from Scotland, between East Fife and Annan Athletic. Annan Athletic played 5 matches and did 7 points, they won 2, draw 1, lost 2, last match they draw...

Assan
Yield: 4.34%
Crawley to win or draw
Here we have Crawley vs Swindon. A football match from League Two from England. Crawley is coming with 1 win in last 5 games they played, last match they draw 0-0 against Gillingham. Swindon comes with...

Assan
Yield: 4.34%
Oberliga NOFV-Sud
03/12 13:00
BW Zorbau to win or draw
Match of football to be played on 03 December 2022 - 14:00 for Oberliga from Germany. BW Zorbau comes with 2 wins in last 5 games they played, last match they won 3-1 against Ludwigsfelder FC. SC Freital...

Assan
Yield: 4.34%
Ludogorets Razgrad
vs
Levski Sofia
Levski Sofia to win or draw
This is a football match from Cup in Bulgaria. Levski Sofia comes with 1 win in last 5 games they played, last match they draw 0-0 against Ludogorets Razgrad. Ludogorets Razgrad is coming with 3 wins...

Sammy Eisen
Yield: -1.6%
World Cup Grp. H
02/12 16:00
South Korea to win or draw
South Korea - Portugal betting tips on 02/12/22, Portugal already qualified and top of Group H, there is no point for them to play for a win at all, in fact, Portugal could lose here and allow South Korea...

AndriusS
Yield: 7.43%
World Cup Grp. H
02/12 16:00
Ghana to win or draw
Ghana should take at least draw today to qualify and it will be hard task, especially with huge Uruguay attacking potential - Nunez, Valverde, Cavani, Bentancur. Still team won against South Korea 3-2...
apsara
Yield: -2.27%
World Cup Grp. H
02/12 16:00
South Korea to win or draw
South Korea are now playing in a decent good form with 2 wins, 2 draws, and 1 loss in the last 5 matches, while Portugal are now playing in a good form with their 4 wins and only 1 loss in the last 5 matches,...

REPG86
Yield: -1.13%
Slaven to win or draw
NK Istra and Slaven Belupo plays by the HNL 1 league and is good to the team of the Slaven to get the win or tie in the match and the form with 3-2-0 and is better to me while the team of the NK IStra...

larsolsensport
Yield: -3.57%
Bristol Rovers to win or draw
This is a bet from the English League 1 today and we will see a game between the home team Bolton and the visitor Bristol Rovers. I think bookies overrate the home team here too much. Their last 2 visits...

larsolsensport
Yield: -3.57%
Cheltenham to win or draw
This is a game from the English League One, where the home team charlton meets the visitor Cheltenham. I like the guests here very much as I think bookies underestimate them a lot. They have 3 games in...
Today's Tonybet prediction and Tonybet tips on football by our experts might differ from the predictions on Tonybet. Please visit the Tonybet official website to see the various predictions of matches worldwide.
---
Contents
---
Tonybet Prediction Bonus (Forecasts)
Users can enjoy bonuses every day from Tonybet by correctly making predictions on the website.
How is this possible?
Players on this betting platform will earn a nice amount of money as a free bet for correctly predicting the outcome of 10 matches.
To qualify for this offer, customers must make a deposit in the last 5 days. Then, after selecting your games and making your predictions, the player needs to click the 'Make forecast' to place the bet.
Note that you have a maximum of one entry per day. So you can win a decent amount of the bonus every day.
Tonybet Tips
Before you can be a successful punter, you will always need tips to help your bets become successful. Every punter needs these tips, whether new punters or professional punters.
Here are a few betting tips that bettors need to consider before placing their bets on Tonybet.
Statistics
Before placing bets on Tonybet, Going through statistics for both teams is a helpful step for bettors.
The bookmaker provides statistics of the teams on the platform containing win probability, form, prior meetings and other beneficial details to aid your prediction. You can also search for more information online to aid those you found on the Tonybet website.
Statistics is essential because it gives you an insight into the current form of both teams. You will also find out how they have performed in the games they've faced each other.
As a result, you can make a more statistics-based decision when wagering, helping you to get the best out of your bets.
Teams' lineups and news
Before placing your bets on Tonybet, you should know a team's lineup and recent news.
Knowing this will assist you in determining which players are likely to start a game. For example, you will find out if a player is injured, or if a key player, such as the team's goalscorer, is absent.
Once you know this, you can use it in placing your bets and getting the best outcome from your bets.
Fixtures
Fixtures are crucial things to think about while placing your wagers. These teams are frequently preoccupied with multiple games and have little time to rest and prepare for the next one.
This condition can lead to tiredness, negatively impacting the team's performance. As a result, it's critical to look at the team's schedule when anticipating your game.
Standings
A team at the top of the table differs from one in the middle or at the bottom. However, one has more wins than the other which speaks volumes about the quality of these teams.
You would expect a team ranked first on the log to defeat a team that is ranked 18th or 19th on the same log. So, to help with your predictions, the difference in their log positions is a critical point to consider.
Favourite
It is usually easier to identify a favourite team from the underdog by just looking at the odds given to both teams.
When placing your bet on the outright winner betting market, the favourite usually has the smaller odds signifying that they are more likely to win the tie.
On the other hand, the other team has the larger odds, making them less likely to win. So going for the favourite team would most likely earn you a win.
However, your payment will be small due to the odds offered. So the smaller the odds, the lesser your payment.
However, there is no guarantee in betting as underdogs sometimes pull surprises, thereby winning the contest. Wagering on underdogs will get you more outcomes. So, it's essential to choose wisely when you wager.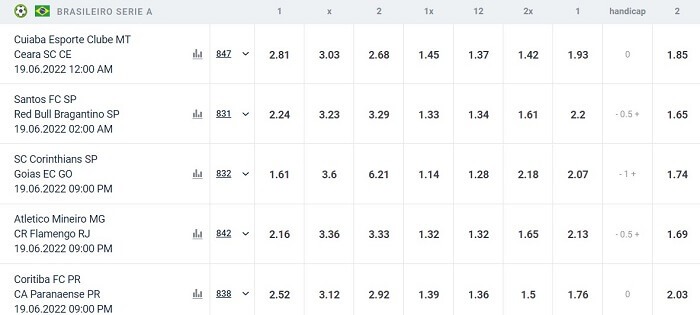 Explore other markets
Usually, a lot of punters wager on the 1X2 market by default. It means they only bet on who the winner of a contest will be.
However, there are other markets available in betting that can help them have better outcomes.
For example, in football, bettors can wager on "Both Teams to Score", over/under, correct score, win both halves, draw no bet, and other markets.
Numerous options are available, and you can also wager on corners and cards. So instead of focusing only on betting on the winner, you can explore these options.
Tonybet Prediction FAQ
What is the Tonybet forecast bonus?
The Tonybet forecast bonus allows customers to predict the outcome of 10 matches to win bonus money. However, if you can only predict 9 and 8 matches correctly out of 10, you will earn still earn something, respectively. You will find on the operator's official website all about how to deposit to qualify for this offer.
Where can I find Tonybet prediction?
Bettors can find predictions on the Tonybet website. Tipsters provide statistics and data for each match on the platform. You can also get Tonybet match predictions online.
Can I make Tonybet predictions on the mobile?
Of course, Tonybet has a mobile version of the website where bettors can make their predictions.