Sahara Games Kenya has lately gotten very popular. If you want to play there with your friends, you will need to know the Sahara Games registration process.
How to Register a Sahara Games Account in Kenya?
When you visit Sahara Games, you cannot start playing immediately. There are a few things you will have to do first. One of them is Sahara Games Registration. Doing that will create your Sahara Games account, which you can use to log in.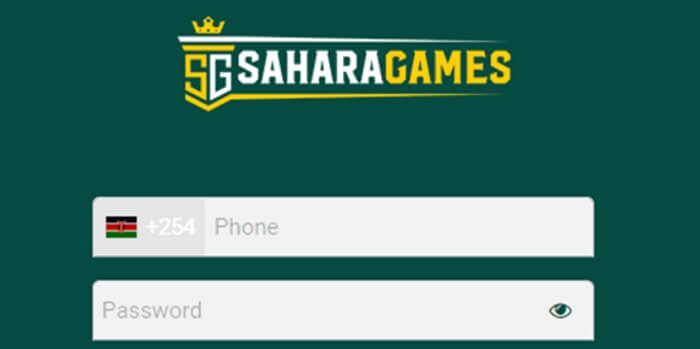 The Sahara games registration can be done either through the online website or through SMS. Here, we will explain both methods.
How to register at Sahara Games Kenya?
Visit the Sahara Games Kenya website using the button below!

Click on the register button.

In the Registration form, enter your personal details.

The phone number will be used as the username and also for making payments.

Submit the information. You will receive an SMS message with a verification code.

Enter the code.

You are registered at Sahara Games Kenya!

Now, you can log in, make deposits, claim bonuses, and place bets.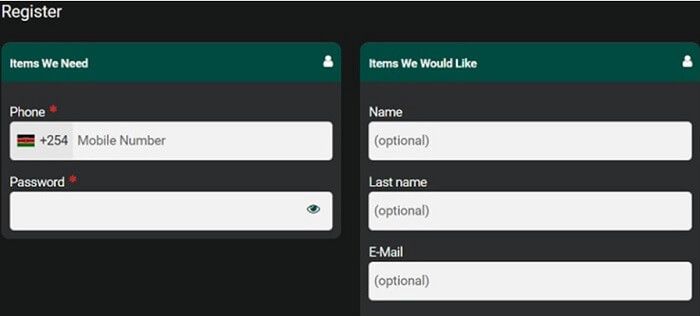 These steps apply to both desktop and mobile websites.
There is an alternate way to register exclusively for mobile users. This method of registering is actually faster and simpler.
Sahara Games Mobile Registration
Mobile phones are generally the most popular way of visiting Sahara Games. Since mobile visitors are so common, the Sahara Games mobile version has all the same features as the desktop version. The design and layout of the website are also nearly the same, only rearranged.
Since Sahara Games has no mobile app, we don't need to be concerned about that. We are only focused on the mobile website. Registering for the mobile site is basically the same as on the desktop website. More detail on the registration method is given in the How to Register an Account section.

Sahara Games SMS Registration
To register via SMS, you have to message 29007.
Open up the text messages on your phone. Send a message to 29007 with only 'BET', nothing else.
An account will automatically be created for the phone number. You will get an SMS code confirming this, along with other details needed to log in to your account on the Sahara Games website.
You can deposit and start playing immediately.
---
---
Who Can Complete the Sahara Games Registration Process?
Most people can sign up for Sahara games. However, a few people are restricted. This restriction can be due to a variety of factors.
Legal Age
Only 18 years of age or older punters are allowed to complete the Sahara Games registration process.
If they find out you are 17 or younger, your account will be suspended. By registering for Sahara Games Ke, you are claiming that you are 18 or older.
No Banned Accounts Allowed
A banned or disabled account still counts as one account. If your account was banned for cheating or illegal behavior, it still counts. In either of these cases, you will have to contact customer support to work out a solution first.
Location
Another requirement for creating an account here is being located in Kenya. You cannot register using a foreign phone number.
Benefits of Registering with Sahara Games Kenya
Sports Betting
Sahara Games offers an extensive line of sports for punters to bet on. Starting with football, basketball, tennis, volleyball and even eSports, Sahara Games has done an amazing job of attracting sports bettors to its site.
It even offers punters the opportunity to bet on live events as they happen. With the best odds on the top sporting tournaments around the world, Sahara has created the experience of a lifetime for bettors.
Casino
Sahara Games also has a casino section with a huge collection of casino games, including Baccarat, Blackjack, Roulette, Slots, and other table games. And it is backed by the best software providers available, including NetEnt, Spribe, and Wager2Go.
There is also a live casino section where players can bet on live games from vendors like BetGames and TVBET. The live casino section really brings the experience to life.
Bonuses
The sportsbook offers a first deposit bonus to all of its new customers. In order to qualify to win a bonus, all you need to do is register on the sportsbook website, deposit a minimum amount required or more and then place a bet.
Cashout Feature
Sahara Games is one of those sportsbooks that offer a cashout feature to punters. All you need to do is place a bet on a series of matches in an event and choose to cashout at any time before the next match has started.
What is Sahara Games Registration Bonus?
As mentioned earlier, punters can claim a Sahara games bonus using the Sahara Games promo code. This is a bonus specifically for new punters who have just joined Sahara games.
To claim this bonus, all you have to do is sign up and create an account. If you deposit the minimum amount and then play a game with specific odds, you will get the bonus.
The minimum deposit and specific odds requirements are to prevent fraud or abuse of the system.
You can use the bonus at any game. It is one of the best bonuses you can get at a sports betting site since it is so flexible.


Sahara Games Registration FAQ
Is it Legal to Register a Sahara Games Account in Kenya?
Yes. It is fully legal for Kenya players to register on Sahara Games. This is because Sahara Games is completely legitimate, safe, and secure. We have tested it and can back those claims up.
It is licensed and regulated by the Betting Control and Licensing Board (BCLB) of Kenya. If you want to cross-check their license number, you can do so. The license number is BK 000302. The website is fully secure, using the latest SSL encryption.
How to Reset Sahara Games Password?
One player can only have one account. If they have forgotten the password for the account, they can use 'Forgot Password'. If they do not have access to the phone the user is linked to, they can contact customer support for a solution.
How to Verify a Sahara Games Account?
Verifying an account means confirming that you are a real person. The basic step of verification involved providing your identity proof and residence proof. For identity proof, you may use a Kenya National ID Card, Driver's License, or Passport. Any one of these will do.
How to Make a Deposit at Sahara Games?
Before you can start playing, you must add some money to your Sahara Games account. Sahara Games Kenya accepts MPESA Paybill and Airtel Money. All you need to do is to follow the instructions available on the website. The Sahara Games paybill number is: 290070.
Our Sahara Games Registration Review
Registration

Mobile Registration

Bonus

Deposit Methods
Our Sahara Games Registration Review
Overall, Sahara Games is a great online sports betting site for Kenyan players. As you have learned from this article, it is also very easy to sign up there.
For convenience, there are multiple sign-up methods provided. If you do it from a phone, then it's as simple as sending a single text message to the sportsbook.
Deposits and withdrawals are both fast, simple, and easy as well. We hope you understand how to register at this sportsbook and can now start betting.