We are currently not working with OdiBets Kenya. We suggest that you visit the BetWinner promo code instead. The operator also offers great offers for their customers.
---
Contents
---
OdiBets Kenya Review: Our Opinion
OdiBets Kenya has many appealing factors that may appeal to bettors to compete with some of the best betting sites. For example, the bookmaker has multiple offers for new and existing players, including jackpots, deposit bonuses and price boosts. Live streaming options are also available for some sports leagues and tournaments.
However, there are also some downsides to the bookmaker. The website theme and usability are basic and can be tricky to navigate, while the mobile app is currently limited to certain devices.
What Is Good about OdiBets Kenya?
There are many excellent features of this betting site. Below, we have listed a selection of the best aspects of the online bookmaker:
A good selection of ongoing and fresh promotions for existing and new customers
Numerous promotions available for the sportsbook and casino
Live streaming available for some sports via the OdiTV section
Good in-play stats and updates, via OdiBets livescore, for all sports events
The OdiBets app is available to download on Android devices
What Is Wrong about OdiBets Kenya?
Although there are many pros of this betting site, there are some areas where its services are lacking. Below are our cons for OdiBets Kenya:
The website layout is quite basic; some odds, markets and pages are difficult to find.
The OdiBets mobile app is only available for Android currently.
Live streaming is limited to some leagues. Major sports tournaments and events are not broadcast.
No live chat function is available for customer queries.
How to Login at OdiBets Kenya?
The OdiBets login process is straightforward once a new player has signed up with the bookmaker. To login to an account once you have set up an account, follow the steps below.
OdiBets Registration
Before players start depositing and wagering, they must complete the OdiBets registration. They can complete this process in a few steps and, once an account is verified, bettors can access odds and promotions from the betting site.
Firstly, head to the bookmaker homepage and click on the 'Join Now' button at the top right corner of the screen.
Next, new customers should enter a valid mobile number then set a unique and safe password. All passwords must be six or more characters.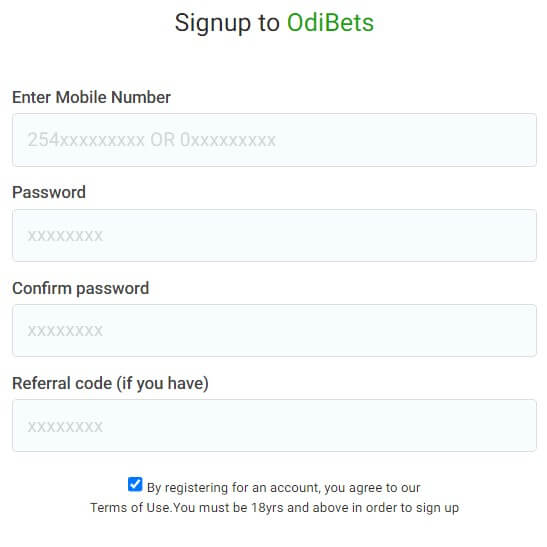 You will get a one time PIN to the mobile number provided. Then you should input this number to complete the registration.
OdiBets Login
Once a player has verified and set up their new account, they can complete the OdiBets login process to access their account and place wagers. Follow the step by step guide to log back into your account.
Load the betting site homepage to get started. From here, select the Login option in the top right corner of the page.
A box will then pop up on the screen, prompting players to enter a mobile number and password. This combination must be the mobile number and password provided during the sign up process.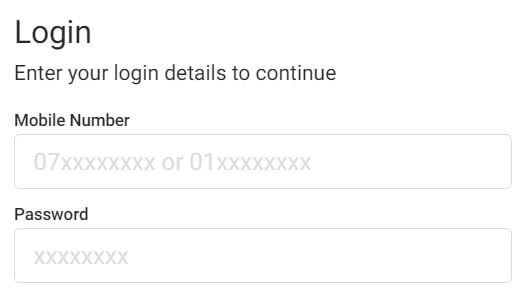 When you have entered the details, click 'Log in,' and you will be redirected to your account. From here, you can place bets, access promotions and manage your account.
Does OdiBets Have a Bonus?
The operator has some bonuses available for new and existing players who have an account. There is also a specific OdiBets bonus for new bettors who sign up with the platform – a free bet.
In addition to the welcome offer, OdiBets Kenya sometimes provides further bonuses for bettors. One ongoing promotion enters customers into a draw to win various prizes each day. To qualify, bettors must meet wagering requirements to enter the draw. Another jackpot offer applies to English Premier League fixtures. In this offer, players can earn various prizes by regularly wagering on Premier League matches.
One offer that is eligible for new and existing customers is the free first deposit of the day. This rewards bettors with a deposit bonus when they make a minimum deposit. This is available daily, but certain deposit and wagering criteria must be met.
Cashback promotions are also on offer, which provides bettors with a returned amount on certain stakes placed. Remember that terms and conditions and wagering requirements apply to bonuses.
How to Download OdiBets App?
The OdiBets app is the bookmaker's mobile application. It allows bettors to access odds, account information, OdiBets livescore functions and other features from their mobile device. To download the app onto your phone and to access all the mobile features, go through the step by step guides below.
Android users can download the app straight from the bookmaker website. Head to the homepage on your mobile browser to get started.
From here, click the menu and scroll down to the 'Download OdiBets app' section. A new webpage will load with details about the app.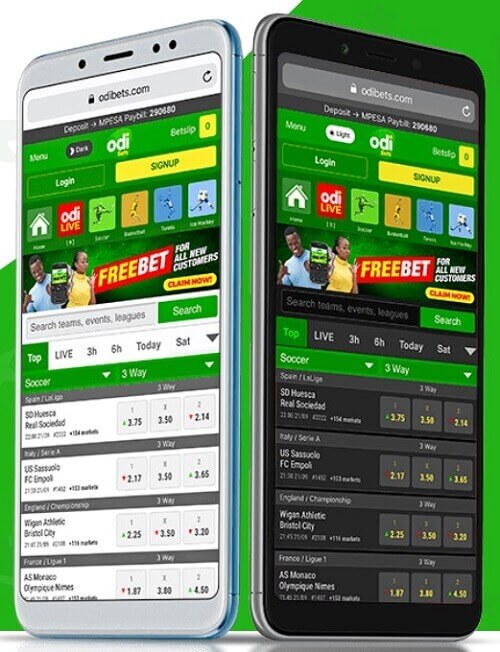 Next, click 'Download Now .' The app will start installing on your Android device.
Once the download is complete, bettors can log in to their account using their mobile number and selected password.
OdiBets App Registration
As well as registering online, new customers using the betting site can sign up on their mobile devices. The list below shows the steps needed to register via the mobile application.
Firstly, open the app on your device and click the 'Join Now' button on the homepage.
Players will be prompted to enter a valid mobile number and set a safe and secure password. This must be at least six characters long.
You will get a secure code via SMS to verify the mobile number and account.
Complete the registration process by entering the one-time code, which will allow you to access your new account.
OdiBets App Login
Completing the OdiBets login via the app is straightforward, and anyone with a verified account can enter the app. Before signing in, players will need their mobile number and previously set password used during the registration process.
When the bookmaker application is installed on your device, click the OdiBets icon to open the app.
Click the login button once the app loads. Then input your mobile number and password.
If these are correct, you can use the OdiBets login to access your account, place bets and see the latest bonuses on your phone.
OdiBets Predictions
When bettors have a new account, they can make OdiBets predictions for major sporting events and leagues. Regular odds for the biggest fixtures are posted daily on the betting site. With a few OdiBets tips, players can make informed and worthwhile decisions when placing a wager.
There are many types of betting markets that apply to most sports. Over/under points or scores are common, while handicaps, 1×2 wagers and correct score predictions are some more sought after odds. Below are some basic tips that apply when making any sportsbook bet.
Check team form before placing a wager to notice any winning or losing streaks.
Look at previous results for any patterns in high or low score lines etc.
Pay attention to injuries or suspensions for team sports as key players missing can affect results. For individual sports, like tennis, a player returning from injury will not be at their best.
Home and away trends are important. A quick look at recent stats for home and away performances in many sports can show how well a team performs.
Keep a betting journal to document any successful wagers and keep track of key markets, teams and statistics.
OdiBets Paybill Number
The OdiBets Paybill number is 290680, and the account number is ODI. Bettors who register with the betting site can make deposits and withdrawals with the Paybill service. The mobile payment system runs this, M-Pesa and payments can be made quickly. Below is a guide to depositing with M-Pesa Paybill.
On your mobile device, head to the M-Pesa menu and enter the Paybill and account numbers, shown above.
Enter the amount you want to deposit to your account and confirm. The funds will then enter an account instantly.
Customer service
OdiBets Kenya has a few customer service contact details available. One of the quickest methods to contact the operator online is via social media channels. All of the customer service options are listed below.
Telephone (0709183680)
Facebook (@odibets)
Twitter (@odibets)
Instagram
OdiBets Kenya FAQs
To help with some common queries and questions about OdiBets Kenya, we have provided the answers to common questions below.
Does OdiBets Give a Bonus?
Yes. The bookmaker provides bonuses for customers. Some apply to new customers only, while others are available for existing players too. 
How to Bet at OdiBets via SMS?
Players can access SMS OdiBets predictions by heading to the 'Booklet' page, located at the bottom of the homepage. To place a bet via SMS, message the code GAMEID#PICK#AMOUNT to 29680. For example, 8923#ManUnited#2.00.
How to Play at OdiBets?
To play at the betting site, players will need to register with the bookmaker with a mobile number and password. They can then login to an account and place wagers with a verified account using their selected mobile number and password combination. 
Why Is OdiBets Not Working?
The website may not be working for several reasons. Contact the customer care team on the channels above if there are issues with the platform.
Our OdiBets Kenya Review
App

Customer Service

Promotions

Live Options