22bet is one of the bookmakers in Kenya that allows you to do sports betting. Moreover, it allows betting on esports events and for users to play casino games. Here we will go over the 22bet login process, explain the perks of registration, and provide additional helpful information. 
How to Login to a 22bet Kenya Account?
Let's go over the 22bet Kenya login process step by step:
Firstly you need to fill in the 22bet registration form

That can be done both on the desktop and the mobile phone.

You can start the 22bet registration process by clicking on the "Register" button

The button can be found in the upper right corner of the home screen on both desktop and mobile devices.



Afterwards, enter your phone number, pick a preferred currency, and come up with a strong password

The procedure needs to be followed in order to enter the operator's betting markets. 

You are going to receive a confirmation code via SMS

Enter the code to complete the 22bet registration process. 

Once you have an account, you can proceed to 22bet login and claim your welcome bonus

To clarify, your phone number acts as a user name for the purposes of 22bet login.
Remember that newly registered players can take advantage of the bonus offers available on multiple sports betting options. The 22bet promo code doubles your initial deposit up to 18000 KES in free bet bonus funds for wagering on sports. Also, the operator offers a welcome bonus for online casino which can be accessed on the betting platform.
Also, you should think carefully before making the initial payment as you could be missing out on the deposit bonus. Moreover, read through the terms and conditions before accepting these bonus offers, to be more familiar with the wagering requirements. Finally, creating new accounts to use the welcome offer can result in a ban from the platform. 

22bet App Login
Another way to the 22bet Kenya login is via mobile app, available for both Android and iOS users. To that end, we will also go through that version of login in this step-by-step guide: 
Again, go to the official website.
Click on the 22bet mobile app icon on the right or upper section of the home page.
Then, you are going to end up on a new page with two buttons or links. 
One is a link for the App Store, and the other is for Android APK.
If you are an Android user, go to your setting to enable APK download and allow installation from unknown sources.
Once the app is installed, you can register and login, in the same way as you would on the site, meaning that you can now claim your free bet welcome bonus..
The process is pretty much identical for both iOS and Android users. The only difference is that the iOS version is on the App Store and you can download it directly from there. Both of these apps have all the same functionalities and features as the website. 

How to Reset the 22bet Password?
In the event that you forget your password and can't access the account, you can easily reset it. When you click on the "login" button, the menu will pop up. Afterward, you will see an option that says "Forgot Password".
A new menu card will appear on this betting platform, allowing you to choose how to recover your password. All you need to do is click on the card that says "By Email," and type in your email. The email you enter must be the one that you used during the registration.
However, 22bet login only uses a mobile phone number. Therefore the email option for password reset is not available for those who live in Kenya.
Once you have entered a verified email, you will click on create a new password button. All that's left is for you to type in the new password and you can attempt 22bet login with it.
Resetting 22bet Password via SMS
Another way to rest the password is via SMS, which is something players from Kenya are likely to use.
Once again, click on the login button and go to the forgot password option. As previously stated, the new menu card will appear. This time choose the option "Via Phone" and type in your phone number.
Enter your 22bet login number that acts as a user name for your account. If the phone is indeed in their database, you can click on create a new password button.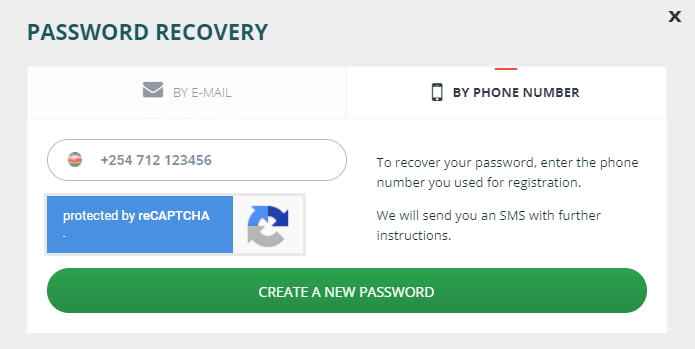 22bet Login Kenya FAQs
Finally, let's go over some of the frequently asked questions regarding Kenya 22bet login. 
How to Activate the 22bet Account?
In order to activate your 22bet account, you need to go through a registration process. For players from Kenya, this means registering using your phone number.  

You need to go on an official website and click the option register. Fill out all the necessary fields and enter the verification code you will receive via SMS. Basically, by completing the registration, you activate your 22bet account. 
How to Verify My 22bet Account?
Currently, there is no option or functionality that allows for account verification. That being said, you can still verify your account. For example, you can contact customer support and ask them to start the verification process. 

However, you are not required to do this. To clarify, account verification is important to the operator to prevent fraud or underage wagering. In other words, they will eventually contact you for the purposes of account verification. 
The only reason why you would want to do this is to get it off your checklist. Meaning, you won't end up in a situation where you can't wager, because the verification is pending.   
Is It Possible to Cancel My 22bet Account?
Currently, there is no option or feature that you can use to cancel the 22bet account. If you wish to cancel your account or delete your account, you will need to contact their support. The contact form link is located in the footer of the page and it will lead you to a contact form. 

Next, fill out the contact information and state that you wish to terminate your account with 22bet. Alternatively, you can just send them an email to [email protected], and state what you want. 

Always remember that responsible gaming should come first. You should place wagers on sports if you find them enjoyable and entertaining. Do not view this platform as a means of winning money or gaining financial stability.
22Bet Review
Registration

Welcome Bonus

Customer Support

Mobile Application