By using the Helabet login, bettors can find details about their account and access the latest bookmaker odds and bonuses. Once players are logged into an account, they can also use the Helabet promo code to get the bookmaker welcome offer.
---
Contents
---
Helabet Kenya Login: Step by Step Guide
Once new or existing customers have created a Helabet account, they can use their details to complete the Helabet Kenya login.
Furthermore, new players can take advantage of the bookmaker's welcome offer. The offer is only available for new bettors without an existing account. Also, new customers must opt-in to the offer before making an initial deposit. To get this bonus, players can use the code when completing their registration.
Any customer looking to complete the Helabet login account process can follow the steps outlined below.
Visit the Helabet Website
Firstly, head to the bookmaker's website. From here, customers will see a purple button at the top of the page that says 'Log In'. Players with an existing account will need to press this button.
However, if any new customers are looking to join the betting site, they will need to create an account via the 'Registration' option. When completing registration, bettors will need to provide an email address or mobile number and set a unique password.

Personal Details
Next, the login box will load. Existing customers will then need to input their user ID, or email, and password used during registration. Any players without a Helabet login account will need to complete registration to create an account.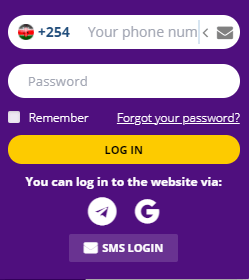 SMS Login
Alternatively, customers can complete the Helabet Kenya login via SMS instead of using personal details. To use this function, select the 'SMS Login' box at the bottom of the log in box. Bettors will then be prompted to enter the mobile number associated with their Helabet account.
A one-time SMS code will then be sent to the number, which players can enter via the login box to access their account.
Log In
When a customer has entered their user ID and password or SMS code, they can click the yellow 'Log In' button. Players should be logged in instantly to their account, There is also an option where bettors can choose for the website to remember their login information.
This can be set to certain devices and players may need to re-enter details if logging on from a new device. If the process does not work, bettors will need to contact the Helabet customer service team.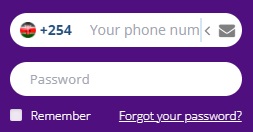 Helabet Mobile Login
Some players may want to use the Helabet login Kenya process on their mobile devices instead of desktop. The bookmaker has a dedicated app, which also allows bettors to login via Android and iOS devices.
But, players who do not have the app available can also log in on the mobile desktop version for the betting site. To log in on a mobile browser, follow the steps outlined above.
To complete the Helabet login Kenya process, customers will need to have the app downloaded on their phones first. They will also need the login details used during the registration process. This includes an email or mobile number and the secure password.
To access a Helabet account via the app, go through the step-by-step points shown below.
Open the app on your mobile device.
The 'Log In' button is located at the top right of the screen on the app. Click this to open the log in box.
Bettors will be prompted to enter their user ID or email and password. Players can also use their mobile number and SMS verification.
Once the appropriate details have been entered, press 'Log In' and players should then be able to access their account and place wagers.

Helabet Login Problems
Sometimes, login problems can occur for individual bettors, or there may be a problem with the betting site. Some of the most common log in problems come from bettors forgetting their user ID or password. Alternatively, customers may not have an existing account, and they will need to register with the site to access promotions, bonuses and odds.
If a customer experiences problems when trying to access Helabet login Kenya, there are ways to contact the operator's customer service team. Additionally, if any players cannot complete the registration process, then they should also get in touch with the company.
Below are the contact details for the bookmaker if any issues come up when logging in.
Live chat function available on the website. This is available by pressing the 'Ask a Question' toggle at the bottom of the page.
Email: [email protected]
Telephone: +254 729640643
Customers can fill out an enquiry form via the bookmaker website
How to Reset Helabet Password?
Occasionally, bettors may forget their original password when trying to log back into their bookmaker account. However, this betting site provides a function that allows customers to easily reset their passwords with a few clicks.
To get started with the reset process, bettors can press the 'Log In' button at the top of the homepage or app. Next, they can select the 'Forgot your password?' option, located in small print at the bottom of the Log In box. Once selected, a password recovery box will load.
Customers will then be presented with two options. They can either reset their password by entering the email address that is linked to their account. Or, they can choose to reset via SMS verification.
For both options, bettors will be sent step-by-step instructions from the bookmaker on how to set up a new password and access their account. Some more personal details may be required when resetting a password for security reasons.
If this process does not work, then customers should contact the Helabet customer service team on one of the channels above.

Helabet Login Kenya FAQs
Below are some of the common questions about the bookmaker and the login process.
How to activate a Helabet account?
Before accessing an account with the betting site, new players must complete the registration process. When setting up an account, new customers will need to provide their name, an email or phone number, and set a secure password. New accounts can take any time from minutes to 48 hours to be set up. 
Why can't I login at Helabet Kenya?
Some players may have forgotten their login details or password. If any customers have problems logging into their account, try the password recovery option on the website or the app. Alternatively, if any login issues continue, contact the bookmaker's customer service team for further support and advice. 
How to activate the Helabet bonus?
New customers can access the bookmaker's first deposit bonus when they opt-in after registration. This bonus amount is credited to a new account once the player completes the registration and makes a minimum deposit. The bonus amount is then instantly credited to the bettor's account. 
How to edit my personal information?
Any player with access to their Helabet login account can edit their personal details at any time. To do this, log in to an existing account, head to the 'My Account' section and players will be able to change any details. This includes names, mobile numbers and passwords.
Our Helabet Login Review
Registration

Login

Customer Service

Mobile