If you are looking for a new bookmaker for entertaining betting, Bongobongo is one of the latest bookmakers in the industry. Get to know about all the bookmaker has to offer in this Bongobongo review.
---
Contents
---
Bongobongo Kenya: Our Review
We anticipate that the betting environment in Kenya will improve as more bookmakers open up there.
They won't just give bonus options and features; they'll also make other bookies sit up and compete favourably with their offerings. Bongobongo is becoming one of the best betting sites in Kenya.
There are plenty of possibilities for sports fans at Bongobongo. Even if there are several athletic events and betting markets for each sport, we would have chosen a sportsbook with more depth.
If betting on live games is more your thing, that is also an option. To provide better forecasts for the live bet, the live betting area now includes a match tracker.
You can enjoy various games in the casino section, from slots to table games and a live casino section with games from the best game studios.
With the Bongobongo mobile app, you can now choose to wager while on the go. Even though it is currently only compatible with Android smartphones.
The bookmaker probably has an iOS version coming very shortly. However, Apple users may access the bookmaker's mobile website.
The responsiveness of the customer care team, which makes it simple to fix any concerns you may have, is one more quality we enjoy about the bookmaker.
Bongobongo Registration Review
To start this Bongobongo Kenya review, we check out the registration process.
The registration process on Bongobongo is the first thing to do on the website. To complete the registration process, you need to enter your phone number and create a strong password of 6 characters and above.
However, you can only register an account with a Safaricom number. This enables you to use the M-Pesa deposit channel after the registration process.
There is also the option of registering via SMS. To complete the SMS registration, send 'JOIN' to 29646 and follow the instructions sent to your mobile phone.
Since you don't need to enter any verification code, you can complete the registration process in as little as 2 minutes. We give a 4/ 5 rating for registration.
Bongobongo Bonus Review
For this Bongobongo Kenya review, we have looked at all the bonus options available for bettors on the bookmaker. The first thing to note is that there is no traditional welcome bonus for sports.
So when you sign up, you won't get any bonus after registering and making your first deposit. A welcome bonus is almost expected of every reputable bookmaker, so we believe the bookmaker will still offer one.
In place of a welcome bonus, you have other time-limited bonus options and an accumulator bonus. For our rating of the bookmaker's bonus section, we believe the bookmaker can do better by offering a sports welcome bonus and a cashback bonus.
Thus, we rate the bonuses 4/ 5. Bettors can sign up without the Bongobongo promo code.
Bongobongo Sports Betting Review
The sports section is the bookmaker's most important part; for this Bongobongo review, we will consider the different betting parts in this review.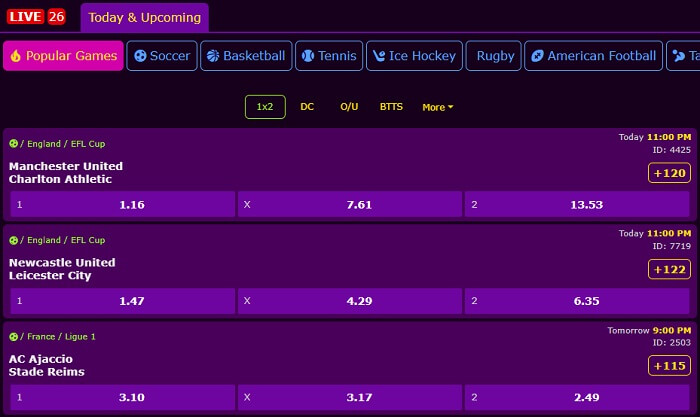 Sports section
Below we list the sports, events, and betting markets available in Bongobongo, Kenya.
Soccer
The major leagues are represented in Bongobongo. Such leagues include the EPL, La Liga, Champions League and continental competitions like the CONMEBOL, EUROS AND AFCON.
Basketball
Because basketball is a very popular sport in Bongobongo. The bookmaker has included local basketball leagues from Africa, Asia, and Europe and the NBA and WNBA in the US.
Ice hockey
On the Bongobongo website, you will see in-depth coverage of this thrilling and fascinating sport so you can make predictions on your preferred markets. You will see betting markets for NFL games and those from other national leagues, like the French Ligue Magnus, the Czech Extraliga, the Russian KHL, and the Finnish Liiga.
American football
American football is primarily an American sport, but it has gained international acclaim in the last few years, especially among punters. For this reason, there are many betting options for the NFL and CFL.
Cricket
The bookmaker offers as many year-round contests for cricket tournaments. You'll be able to wager on legendary events like the Big Bash, Caribbean Premier League, Indian Premier League, and many others.
Live betting/streaming
For a better experience in sports betting, most bettors place live or in-play betting. Due to the fast nature of the change of odds, it is usually interesting.
Since the bookmaker has developed a speedy live betting system that updates nearly every second with changing odds, it's incredibly easy to place live bets at Bongobongo.
Due to the automated nature of the live online sports betting system and the ease and smoothness of placing bets inside it, you will always be able to join in on the action and place a wager swiftly.
If you're a seasoned gambler, live betting will be very beneficial since you'll get the best odds by making your bets before the game's crucial on-field action influences the odds in our system. You might compensate for your unsuccessful wagers by placing live bets on the opposite outcome.
However, if you're a beginner, wait before you act since you'll lose much of your betting money. Make regular wagers, and when you're proficient enough, you may move to live sports betting.
Jackpot
The bookmaker occasionally offers a jackpot bonus for bettors. The Bongobongo jackpot is free and available for every bettor.
Virtual section
For the virtual section, there are several sports available. The first is the virtual football games which come in different varieties. You will see several virtual leagues and then the virtual penalty.
Other virtual games include horse, greyhound and car racing. In the virtual section, you can find betting markets, whether the sports seasons are one or off, 24/7. And if you just want to have some fun, you can decide to watch the game before betting on it.
Odds
The bookmaker offers higher odds in some games. But in most games, the bookmaker offers the same odds as every bookmaker. The major difference is in the promotions that are available to bettors.
For example, the Win Boost Ultra is the accumulator bonus of the bookmaker. This accumulator bonus offers you 580% of the amount on your bet slip.
However, you must have ten or more games in your bet slip with a minimum of 1.25 odds to qualify for this bonus. You can only get this bonus on pre-game or live bets.
Bongobongo Casino Review
The casino section on Bongobongo is vibrant, and in this Bongobongo Kenyan review, we look at each casino game on the bookmaker.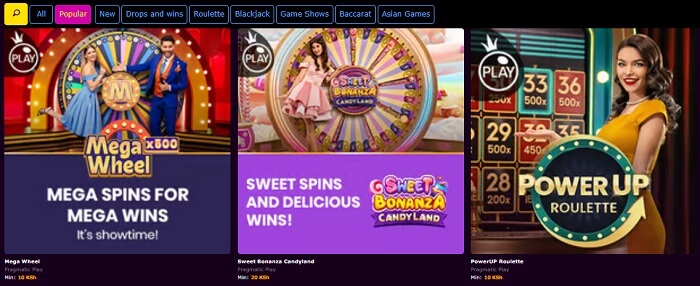 Slot games
There are more than 500 slot games on Bongobongo, with these being the most popular. Different elements and topics are included in these games.
Slot machines use a random number generator and don't involve any kind of planning. They also finish quickly, making it simple to gamble on slot machines.
Table games
Every game that is played at a table at a casino is referred to as a table game, including baccarat, roulette, blackjack, and poker.
Even if Bongobongo doesn't provide many table games, you may still enjoy playing a few. To familiarize yourself with the game before playing it, you may alternatively choose to view the simulation.
Live Casino
All popular casino games are available in a live format in the live casino area of Bongobongo.
This means that from the convenience of your mobile device, you can place bets with a real live croupier and experience the thrill often saved for real-world casinos. Blackjack, baccarat, poker, and roulette are some games in the live casino section.
Bongobongo app review
You may wager using the Bongobongo app in addition to the bookmaker's website. The bookmaker has created a mobile app for Android users who want to wager while on the go.
The Bongobongo app's UI is equally colourful and features a background of green and black contrast as the desktop website. You must download the apk file from the bookmaker's website to use the Bongobongo app. To install the apk file after receiving it, click on it.
You may create an account, deposit, place bets, watch live betting, and withdraw funds using the Bongobongo app. The Bongobongo app also features a notification option that may alert you to upcoming games, temporary incentives, and even developments during a play.
Apple customers are unfortunately without an app because the bookmaker has not yet created an iOS version of the software. Therefore, users of Apple phones will need to use the bookmaker's mobile website.

Bongobongo Payment Methods Review
Payment and withdrawals are essential parts of every bookmaker. As part of our Bongobongo Kenya review, we look into the details of the two transaction types at Bongobongo.
How to deposit at Bongobongo?
To be able to place bets, you must deposit money into your Bongobongo account. The bookmaker only accepts one deposit method, the M-Pesa channel. M-Pesa is a very common payment method for Kenyans.
You can either deposit on the website or use the M-Pesa menu by dialling the USSD code.
The Bongobongo Paybill number is 499995, which you must enter with the account number (Bongobongo) to pay into your account.
How to withdraw from Bongobongo?
Withdrawal from the bookmaker is also through mobile money. You will need to register with the mobile number you use for mobile money transactions.
Before posting any withdrawal request to the bookmaker, ensure to verify your account, or it will delay the process. You will not have to pay any fees for withdrawal, and the process is completed within 1 hour.
Even though a huge majority of Kenyan bettors use M-Pesa, it is very restrictive for the minority who prefer credit cards or bank transfers. Overall, we rate the methods 4/ 5.
Bongobongo Review Kenya FAQs
We have come to the end of this Bongobongo review article, and we want to conclude by answering some frequently asked questions about the bookmaker. If you have any additional questions, please contact the customer support team of the bookmaker.
Is Bongobongo available in Kenya?
Yes, Bongobongo is available in Kenya. The bookmaker is registered and licensed by the Betting Control and Licensing Board and can operate an online sportsbook and casino. So you can enjoy betting on the bookmaker's sports or casino section.
How to log in to Bongobongo?
To log into your Bongobongo account, you need to head to the Bongobongo website and click the 'Login' button. Enter your phone number and password to log into your account. If you forget your password, click the 'Forgot Password' button to get a link to reset your password.
How to contact Bongobongo Kenya?
You can contact the team at Bongobongo Kenya through the customer support channels. The first way to contact them is by email, you can also call them on 0111 022 200, 0793 480 703. Finally, you can also request a callback from the customer support team.