Just like with almost every other sportsbook, you need to create a Betway account and enter Betway login details before you can place a wager. Also, if you are interested in using the promo code, you can check out the operators' website and find more info about the Betway sign up code.
Betway Kenya Login: Step by Step Guide
Users who already have a new account registered can use their account details to log in. This can be done online, via a mobile web browser and through the Betway app login option. All you need to do is to insert the username and password in the designated Betway login fields and confirm.
Once you log in, you will be able to deposit funds, create betting slips, choose markets and much more. To make it even easier for you, we have created a simple step by step guide with screenshots.

Go to the Betway Kenya website and create an account
First step you need to take is to visit the official Betway website and sign up if you still don't have an account. Creating an account is easy and the whole registration process can be done in under five minutes.
Click on the "Sign up" button at the top of the page and fill in the dialogue box that will appear on the main screen. Enter your personal information such as your phone number, password, first name and surname and e-mail address.
If you want, you can take advantage of the Betway sign up code above their "Terms and Conditions" box. After you fill in the necessary details, click on "Register" and you will have an account here. Betway Kenya login details that you created apply to Betway casino login as well, so you don't have to create separate accounts.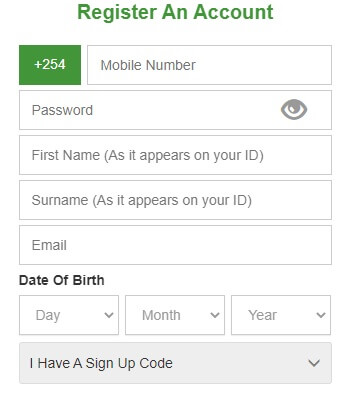 Click on the green "Login" button
Now that you have an account, you can login and start your Betway journey. Login is even easier than registration because all you need to do is enter your phone number and the password you've created during registration. Click on "Login" and you will be transferred to your new account.
Activate your account
Before you can make your first deposit and bet here, you need to activate your account. Account activation is all about proving your identity. This can take up to 48h, but often it is done within the first day of creating your account.
All you need to do is take a picture of a document that proves your identity. That can be your ID card, your passport or your drivers' licence. Personal details that you entered during registration must match the information on your ID document, so have that in mind.
Make a deposit and place your first bet
After you've finished with the Betway login process and account activation, you can go straight to depositing and betting afterwards. It is time to start having fun and creating plenty of winning betting slips.
---
---
Betway Mobile App Login
We should also mention that login into the Betway account via their app is possible too, and that it looks almost the same.
All you need to do is download and install the app, open the app and tap the Betway App Login button at the top of the screen. Then, insert the username and password and you are good to go. The same applies to Betway casino login, you can do it from your PC and from the mobile app as well.

Betway Login Problems
It can sometimes happen that the users can experience some difficulties while trying to login to Betway. There could be several reasons for those login problems, so we will mention a few of the most common ones.
Registration
The first problem is where most users make mistakes. They are trying to login without even having a Betway account. In order to login, you must go through the registration process and fill in the necessary information. Registration is short and simple and can be done in a matter of minutes.
After you are finished with registration, you will have your login details and you will have to enter your account.
Incorrect typing
Another common problem is that punters simply mistype their login details. Phone numbers and passwords can be typed in incorrectly, so make sure you check them first. Especially passwords because they are hidden (so no one can see it when you are entering it).
Forgotten Passwords
Another issue during the login can occur in cases when the user forgets his/her password. In this case, all that is required is to simply click on "Forgot password?" below the box and you will be able to reset it and create a new one right away.
The Betway Kenya team will send you a code via SMS, so make sure you have your phone with you. One more issue can be an unstable internet connection, so don't forget to check it as well, but we're sure you've already known that.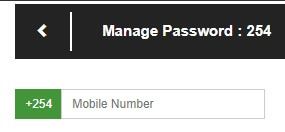 How to Solve Betway Login Problems?
If you still can't login and you constantly experience issues while doing it, don't hesitate to contact their customer support. Their respectful agents are always at your disposal whatever question or doubt you might have.
You can contact them 24/7 via their live chat option which is placed in the bottom right corner of the website. Just enter your phone number, password and the problem you are experiencing and one of their friendly agents will get back to you in no time. Also, you can send them an email to [email protected] but make sure you include your username.
How to Reset the Betway Password?
Punters often forget their passwords, but luckily that isn't an issue anymore. If you forget your password or you want to change it for any other reason, you can do it in no time.
Simply, go to Betway and find the button "Forgot password?" which is placed below the login box at the top of the website. Enter your phone number and click on the green button "Reset password". Betway will contact you via SMS and in just a few clicks you will have a brand-new password.
Betway Login Kenya FAQs
How to activate a Betway account?
It can take up to 48 hours to activate your Betway account and in order to do so, you must provide them with a picture of your ID document (ID card, passport or driver's licence). After uploading a picture of the chosen document, their agents will verify and activate your account within 48 hours. When your account is activated you can go straight to depositing and placing bets. 
Why can't I login to Betway Kenya?
You can experience a few difficulties while logging in. The most common problem is that you've mistyped your login details, so make sure you check them first. If you still can't log in, change your password and try again. If you can't go to your account even after that, go to the live chat option and contact Betway customer support. 
How to activate the Betway bonus?
You won't have to activate this bonus by yourself. Betway bonus will be automatically credited to your account after you register and make your first deposit that meets the minimum deposit requirements. 
How to edit my personal information?
If you want to change any of your personal information, contact their agents via live chat options or send an email to [email protected]. If you choose to contact them via email just make sure you always include your username.
Our Betway login review
Registration

Login

Mobile

Customer Service