Betsafe is one of Kenya's most popular sportsbooks. In this Betsafe review, we'll evaluate each of these points: sports, casino games and live casino, virtual sports, and more.
---
We are currently not working with Betsafe. We suggest that you visit the BetWinner promo code instead. The operator also offers great offers for their customers.
Betsafe Review: Our Opinion
Betsafe is one of the most popular sportsbook websites in Kenya. It is home to a lot of sports betting markets and it features many bonuses. Plus, there are great jackpots.
There are several different ways to bet on sports, like Virtual and In-Play. But it doesn't have any casino games, which puts it at a disadvantage compared to certain other sportsbooks. It also has another downside, which might be a big problem. There are very few sports actually available to bet on, compared to other Sportsbooks.
Once you've read through the review, if you still want to sign up, then you can always use the Betsafe promo code to get a nice welcome bonus!
What is Good about Betsafe?
Great odds for all punters.
A lot of betting markets for popular sports.
Supports SMS/Text betting
Lots of bonuses and promotional offers.
Multiple jackpots mean a better shot at winning one.
What is Wrong with Betsafe?
The variety of sports in this sportsbook is very limited.
---
Contents
---
Does Betsafe Have a Bonus?
The Betsafe welcome bonus is a single free bet. The value of this free bet will be equal to the player's deposit. To activate the bonus, they must deposit at least KSH 49 for their first deposit. The bonus limit also goes up to KSH 2,000.
Once they have the bonus, they need to place it on a 3x or more multibet with 3.50 odds. It's a solid welcome bonus offer for any new player.


Betsafe Sports Betting Review
Now for our review of sports betting action at Betsafe. As far as most players are concerned, this is the core feature of the casino and sportsbook. That's why it needs to be looked at thoroughly in this Betsafe review.
The overall verdict on Betsafe sports betting is that the overall odds and markets are quite good. However, the variety of sports is a big limitation. Even if these sports are the most popular ones in Kenya, they should still offer more variety and options. Some players might have more niche favorites they want to bet on.
Sports Available
There are only 9 different sports available at Betsafe. They are Football, Basketball, Tennis, Cricket, American Football, Boxing, Volleyball, Ice Hockey, and Handball. That's it.
This is a big contrast to other sportsbooks that can have 30+ different sports. Players who want to bet on something more niche may simply go to those other sportsbooks.
Despite that, the actual spread of games is quite good for Betsafe Kenya players. The games available are the ones most people here love to bet on. There are over 500 upcoming events for Football, as expected. For Basketball and Ice Hockey there are also over 100 sporting events. Players can place pre-game bets on any one of them.


Odds
The odds at Betsafe are quite excellent. They are really accurate to what actually happens. Plus, the house edge is a little lower than other sportsbook sites. All these put together mean that betting on sports at Betsafe can be extremely fun and profitable for anyone.
Since the odds are great, players can spend a lot of time and money wagering. Chances are, they will get back most of their wagers thanks to the good odds.
Live Betting and Streaming
Live betting is basically placing a bet after a game has already started. Pre-game betting may be the most popular type of betting, but live betting is a lot more exciting. With live betting, players can actually place bets while watching the match in front of them.
Betting live is considered to be a lot riskier and volatile compared to pre-game betting. For some players, that's just good news. The odds can change from minute to minute.
Unfortunately, Betsafe does not have any live streaming feature built-in. Players can only check the live scores and the current condition of the game in the live tracker, such as who has possession and what moves each team is making. They can also view statistics if they think it will come in handy.

Promotions
There are a number of different promotions to take advantage of at Betsafe! We've already mentioned the welcome offer, but there is also a Boost bonus.
The multibet boost bonus basically works like this: when someone combines multiple bets into one and wagers on them together, that's a multi-bet. The combined wager has higher odds, so it's a high-risk-high-reward approach.
With the multibet boost bonus, adding four or more bets to the Betslip adds an extra boost to the winnings. This starts at 3% for four bets. This increases to 5% for five bets, 10% for six bets, and so on. At maximum, this gives out up to 200% boosted winnings.
Text Message Betting
Did you know that players can place their bets at Betsafe without actually logging in or opening the casino? This can be done through text messages. If you have a phone, you can easily send an SMS or a Telegram message.
To place the bet, all you have to do is send a message to the official number 23333 with your wager and the upcoming game. For example, if you want to bet on Man City vs Man Utd, this is how you do it.
Simply send the message to 2333 saying "500 Man City Win". That means you are betting 500 KSH that Man City will win. There is no need to figure out or memorize complicated game IDs. The next match with Man City will be automatically taken at the match you are betting on.

Betsafe V-League Review
Real life games are not the only thing to check out at Betsafe. Virtual leagues are also offered here. For those who don't know, virtual leagues are basically simulated games. Both teams are controlled by a computer. Programs called random number generators are used to randomise things and add the unpredictable factor.
Types of Virtual Sports
Most of the real events actually have virtual equivalents here at Betsafe. When it comes to sports betting, they are actually extremely similar. For instance, there is Virtual Football, Virtual Tennis, Virtual Horse Racing, Virtual Basketball, and Virtual Greyhound Racing. In each of these games, players can place bets just like with a real game.
The only difference is that in the virtual game, the match is completely simulated by the computer. The winner is hard to predict since it's more random and the virtual teams may not have a lot of history and statistics behind them like a real team does.
Practice Play
Virtual sports have one feature that real live sports betting misses. They can be used as practice games. That means you can try out these matches and have fun without actually having to wait around for a real event to take place. Plus, real events force you to spend money, while virtual events won't.
Betsafe Casino Review
Betsafe Kenya does not actually have a casino or any live casino games. That is one of the major disadvantages of it compared to other Kenyan sportsbooks.
However, we expect that they will develop one in the future once they get the appropriate licences and software providers sorted out. Betsafe does offer traditional online casino gaming in other markets in other countries.
In a future Betsafe Kenya casino, expect to see hundreds of casino games from top providers like Pragmatic Play and Yggdrasil. Slots, Blackjack, Video Poker games, Roulette and all kinds of other live casino games should be available to play. Additionally, there could be some other bonuses and promotions focused on the casino specifically. 
Betsafe Jackpot Review
Betsafe actually offers three different jackpots. Each jackpot is tailored to a different level of player. The jackpots are drawn on a daily or weekly basis, so players can aim for one at any time! The jackpots work like this: Betsafe picks a set of football games every day and week. Players must wager on the correct result of the games.
The daily jackpot is the smallest one. It pays out over KSH 300,000. To win it, players have to get 9 bets correct. It resets every day, so someone or other tends to win it every time. The cost of entry is also the lowest here, at KSH 15.
The middle and super jackpots require players to wager on 15 or 17 events respectively. Fortunately, there are some consolation prizes for these. Players who get at least 12 or more correct will get a smaller reward as the compensation runner-up prize.
These two jackpots have a huge payout. The middle jackpot pays out KSH 25,000,000. The Super Jackpot pays out over KSH 114,000,000 and counting. The entry for these jackpots isn't very high either. The middle one costs KSH 20 to enter and the super jackpot costs KSH 80.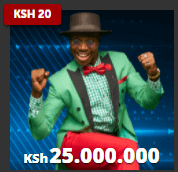 Betsafe Payment Methods
For Kenyan players, Betsafe has only one major payment method. All Kenya players can make payments conveniently and easily through M-Pesa. M-Pesa is a multiplatform payment provider, so both desktop and mobile users can use it without any trouble.
Similarly, Betsafe.co.ke is exclusive to Kenyan players. So, KSH is the only currency accepted here.
How to Make a Deposit at Betsafe Kenya?
The steps for making a deposit at Betsafe Kenya depend on whether you are on mobile or desktop. In both cases, the payment method is M-Pesa. Here are the quick facts on depositing.
Minimums – The minimum deposit amount is KSH 49. 
Maximums – There is no maximum deposit limit
Processing Time – Payment is processed almost instantly
Deposit Fees –  There are no deposit fees either.
To make a deposit from the website, players have to log in. Then they can click on 'Deposit' and enter the amount. Once they confirm they simply click 'Deposit'. After this, they have to open M-Pesa in a different window and confirm the payment from that side.
Making a deposit from mobile is a little easier. For starters, there's no need to open the website. Everything can be done through the M-Pesa app or the SIM Toolkit. Players can simply open the app, then choose 'Lipa Na M-Pesa' to go to payments.
From there, they can select 'Pay Bill'. Betsafe's number is 7290099. Once they enter this number and 'BETSAFE' as a reference, they are depositing at the sportsbook. The next step is to just enter the amount and a PIN to confirm. The funds will be transferred immediately without any hassle. It is a lot faster and easier than a credit card or bank transfer.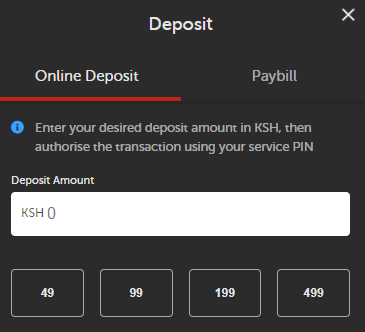 How to Withdraw from Betsafe Kenya?
Just like depositing, there is only one withdrawal option at Betsafe Kenya: M-Pesa. Withdrawals through M-Pesa are very convenient.
Minimums – The minimum withdrawal amount is KSH 100. 
Maximums – There is no maximum withdrawal limit given.
Processing Time – Withdrawals take a few minutes. At most, it should take 30 minutes.
Deposit Fees –  There are no withdrawal fees from the casino.
To make withdrawals from a desktop computer on the Betsafe website, players have to first log in. Then they can go to their profile and select 'Wallet'. From the Wallet menu, they can click on 'Withdrawal' and choose the amount. There's no need to choose a payment method since the money is only sent to an M-Pesa account.
There is even an option to withdraw via SMS. A player can send a text message to 23333 with the withdrawal amount. "Withdraw 500" means you want to withdraw KSH 500. The money will be transferred to you shortly. This is one of the most convenient withdrawal methods ever.
In some cases, you may not be able to withdraw. There are a couple of possible reasons. One is that your winnings are tied up in a bonus offer. The wagering requirement for that bonus has to be fulfilled first. Another possibility could be that the money has not been wagered or used. Betsafe is not a bank or wallet, so players must wager any money they deposit once.
While there are no withdrawal fees, players need to keep taxes in mind. 20% of winnings are taxed. This tax already applies to the bet long before you try to withdraw, so there's no need to worry about it at this point.
These are all reasonable reasons for restricting withdrawals. Players can always contact customer support if they feel there is a different problem.
Is There a Betsafe App?
Yes. For mobile players, the website is actually very well optimised. However, they can still download a separate app.
The app download link is given at the top of the webpage when you open it on mobile. Just click on 'Download' beside the Betsafe App link that shows up. The mobile APK will be downloaded to your phone.
Note that this app is only available for Android. Once the APK has been downloaded, you can install it and start playing from your home screen directly. Don't worry about any warnings you see from your phone. We have determined that the app is perfectly safe to use.
The app has every single feature the website has. In fact, the app is very similar to the site, but it is more optimised for mobile devices.
If you have any problems with running the app, then there are a few possibilities. One is that your phone is too old. This is unlikely since the Betsafe app should run smoothly on even phones that are 5-6 years old. Another possibility is that you are playing from a country outside Kenya. In that case, you cannot use the app as it is exclusive to Kenya players.

Customer Service
Customer service at Betsafe is always ready to solve any problems customers have. The customer support system can be reached through several methods. They are available around the clock 24/7.
Before contacting customer service, why not check the Help Center? The help center includes a lot of information that customers will find valuable. It includes this information as FAQs. Your own question might be already answered, so check it first.
To visit the help center, click on the '!' message box at the top right corner on the desktop site. On the mobile site, this link is at the bottom right, under 'Customer Service'.
You can check previous common questions. However, if your query can't be solved by the help center, then contact support directly.
The fastest way to reach them is via phone. The customer service number for Betsafe is  111 040000. This number is always active. In case that number is busy or does not work, there is an alternate phone number at 730 040000.
The second fastest way to contact them is live chat. They will respond to live chat requests within 30 seconds. You can access the live chat by clicking on the link at the footer of the website. Alternatively, you can click on 'LIVE CHAT' in the help center.
For very detailed problems that don't really require an immediate response, we suggest emailing them. The email address is [email protected]. Betsafe will respond to any emails within 30 to 60 minutes.
Betsafe Review FAQs
How to register at Betsafe?
Registering at Betsafe Kenya is quite easy. During our Betsafe Review, we tested the process. Here are the following steps.

1. Click the 'Create Account' button at the top right corner. 
2. Enter your phone number and a memorable password. Then, click on 'Join Betsafe.'
3. To deposit/withdraw later, you'll have to add additional information like name and address to your profile. You could do that now for convenience.

As you can see, it is extremely easy and convenient to register here. 
Some players might encounter problems during registration. The most common reason's that they are trying to do it from outside Kenya. Betsafe.co.ke only accepts Kenyan players.
Is Betsafe casino legit?
Yes. Betsafe casino is perfectly legit. They are not just exclusive to Kenya, but also have branches in several other countries. Inside Kenya, they are regulated by the Betting Control and Licensing Board of Kenya. This is the official governmental organization that deals with casinos and sportsbooks here. They also sponsor two sports teams: the AFC Leopards Sports Club and the Gor Mahia Football Club.

If you want to verify these for yourself, their Public Gaming License No. is #0000119. Their Bookmaker's License no. is #0000301.
How to check my bet slips at Betsafe?
On the desktop site, the Bet Slip is always displayed at the right side of the screen. As you add bets, the betslip will automatically update. It is visible at all times, so you know exactly what you are wagering on.

On mobile devices, the betslip is shifted to the bottom. A number shows how many bets are placed in the slip at the current time. Tapping 'Show' at the bottom right corner will pull up the panel and display all the bets. Once you are done placing your bets, set your stake amount and confirm the bet.
What are Betsafe betting tips?
We have a few betting tips for you. After this Betsafe review, if you decide to start playing there, then keep these in mind. 

1. Do your research. Sports betting is about prediction and analysis, not luck.
2. Always keep a cool head and logically calculate the odds of various events. If you get angry, you might make a bad decision. 
3. Don't fall for the hype. Every season, some teams get overhyped by their fans. However, that team might just be on a lucky streak.4. Take advantage of multibets and accumulator bets. If you are certain about a bet, then try combining it with multibets for a bigger win!
Betsafe Kenya Review
Welcome Bonus

Jackpot

Payment Options

Customer Service