Do you know that you can get a Betika welcome bonus in Kenya? Betika is one of the best betting sites that offer a lot of bonuses to customers.
About Betika Welcome Bonus
Betika is a well-known bookie in Kenya with several bonus offers. Among the many offers on this site is their welcome bonus. New players will receive a bonus after they complete their Betika registration.

In addition to the Betika welcome bonus, they also have some jackpots worth talking about in this Betika review. So, let's look at these jackpots and explain how they work.
Betika Mega Jackpot
One of the unique offers on Betika is their Mega Jackpot. This offer usually has up to 17 events listed.
By the way, you can only participate if you have an account with them. If you're able to make at least 12 correct picks, you can claim the jackpot prizes.
The Mega Jackpot bets don't have any specific limit. In other words, you can keep playing for as long as you like. Also, you don't need to use a promo code to participate in the Mega Jackpot offer.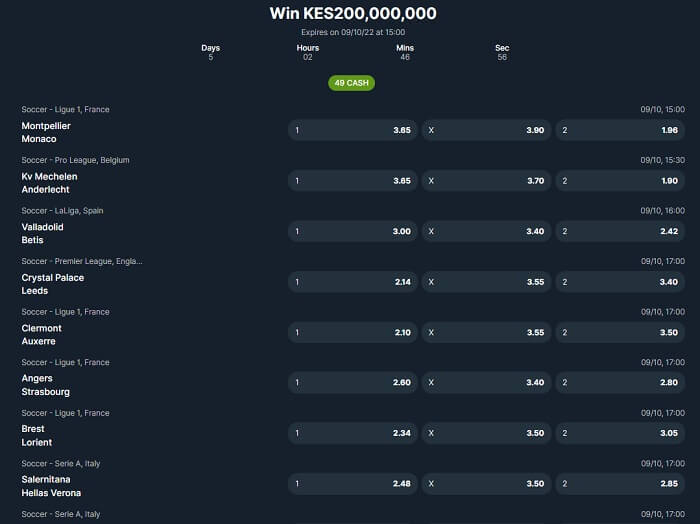 Betika Midweek Jackpot
The bookie also offers a Betika midweek jackpot bonus. If you can predict 12 or more games correctly, you can claim the prize.
Like the Mega Jackpot, you can play the Betika midweek jackpot bonus many times to increase your winning chances. You also do not need a promo code to enter this bonus.
Sababisha Jackpot
There's also a Sababisha Jackpot, which offers players a daily mini jackpot. There are around 7 to 12 games available for Sababisha.
You can bet on the Win-Draw-Win or GG/NG market in Sababisha. If you have 3 postponed games among your selections, your bet will be voided, and you will get a refund instead.
On the other hand, if it's just two games postponed, your prize will be divided by 9 for the 3-way bets. Similarly, for the GG/NG bet, it will be divided by 4. You can only participate in the Sababisha jackpot 10 times.
---
---
How to Claim the Betika Welcome Bonus?
When signing up for the first time, you can claim the Betika registration bonus. Also, you can claim Betika bonuses with the promo code if you have one. It's a straightforward process that will be outlined below.
How to redeem the Betika welcome bonus?
Visit Betika and Register

You can claim the promo code at the point of registration. If you don't begin your registration, there's no way you can get the welcome bonus. So, the first step is to visit the website either on your phone or PC. Locate the "Register" button.


Fill out the form

You will be directed to the registration form when you click on the register button. Here, you will be asked to fill out details about yourself. You'll also notice a portion that asks for a promo code. This is where you need to enter it to claim your Betika bonus before submitting the form.


Get the Authorization Code

After you enter the promo code on the registration form, you can submit it. You will get a confirmation code on your phone. Click on it to confirm your registration is complete.

Make Your Deposit

After completing your registration, you can now use your betting account. However, to claim your registration bonus, you should make a deposit. You would only get the bonus after your first deposit.
Now, that's all that is required of you is to claim the welcome bonus. However, please read the terms and conditions before using any Betika bonuses. 
In the meantime, you can claim the registration bonus one time with the promo code. Also, know that your bonus will be credited immediately after your first deposit.
Other Betika Bonuses
So far, we've only mentioned the Betika jackpot bonus offers. There are other bonuses for both new and exciting users on their platform. The bookie offers these bonuses from time to time.
In other words, it's a good idea to always check their promotions page for the latest offers.
Free Bet
Betika gives new players a free bet when they complete their sign up. This is unlike what you will find in any bookmaker in the country.
Casino Bonus
Betika also has an online casino section that has bonuses. At the time of this review, there is no casino welcome bonus. Instead, they are offering a jackpot bonus.
Deposit Bonus
Betika did something quite different from other bookmakers with their welcome bonus.
The bookmaker gives you a refund when you place bets equal to your first deposit. The good part is that, unlike other bookies, there is no wagering requirement for the bonus.
However, you have to wager the first deposit before you can get the bonus. Please ensure you read the terms and conditions of the Betika bonus carefully.
Reasons to Join Betika With The Welcome Bonus
If you're wondering why you should join Betika, to claim their bonus, we have a few reasons: 
You get a free bet
Betika is one of the few sportsbooks that offer free bets as a welcome bonus. You can claim the Betika free bets without making a deposit.
No wagering requirement
If you sign up with this bookie, you get a wager-free bonus. You can withdraw your winnings immediately.
Instant withdrawals
Withdrawals are fast with this bookie. You won't need to wait long to receive your money from this bookie.
Easy claiming bonus
It's easy to claim the bonuses, including the welcome offers. If you have a promo code, you can use it during sign up.
Participate in jackpots
Apart from claiming the welcome bonus offer, you can participate in the jackpots. New players can also wager on all the Betika jackpot bonus offers.
Bet on sports
If you claim the Betika welcome bonus, you can use it to wager on the site. Whether it's the free bet or deposit bonus, you can wager on all sports offered on the site.
Betika Bonuses Review
In our opinion of the Betika bonuses, we believe they are quite fair. Also, they have gone the extra mile by providing players with the Betika free bets via the Betika app.
Betika has very unique offers compared to other bookmakers.
Overall, these offers are quite reasonable and will attract a lot of players to their site. The no-wagering bonus offered on this site is also a nice touch. If you haven't signed up with Betika, we recommend you try them out.
Betika Welcome Bonus FAQs
Is there a welcome bonus at Betika Kenya?
Yes, the bookmaker gives a welcome bonus to new customers. You get a Betika welcome bonus after wagering your first deposit. 
How to use the Betika bonus?
You can use the Betika bonus to bet on any sports of your choice on the site.
How is the Betika jackpot bonus awarded?
You can participate in the Betika jackpot bonus offer by making the minimum wager. When you guess the minimum number of picks correctly, you get your prize.
How to withdraw the Betika bonus?
Betika doesn't have a wagering requirement, so you can withdraw your winnings immediately.