10bet Registration is a pretty straightforward process that allows sports enthusiasts in Kenya to access a world-class online betting platform. In just a few steps, users can complete the 10bet sign up – create an account and start placing bets.
🔎 How to Open a 10bet Account in Kenya?
Here are the steps you need to take to open an account at 10bet. 

Wait for the website to open to initiate the 10bet sign up process. Once opened, look for and click on the Join Now button located at the top right corner of the homepage.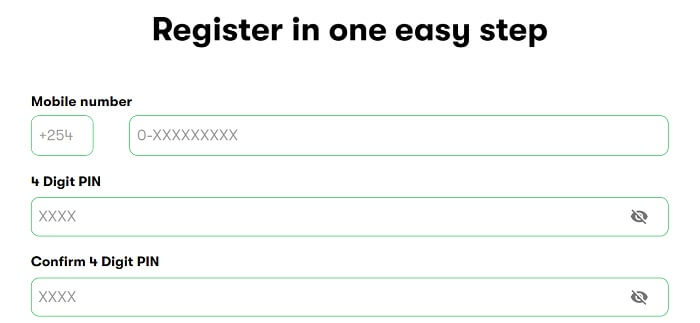 On the resulting page, fill out the registration form with the required detail. At this point, the only details needed are your mobile number and 4-digit PIN (personal identification number).

Read through the Terms and Conditions. Tick the applicable checkbox after reading through. This indicates compliance with the T & C's and confirms that you are of legal age to gamble (18+ years old).

Click the Join Now button beneath the form to create a new account – that is, after filling out the registration form and assenting to the T&Cs. The creation of your new account marks the completion of the 10bet sign up process.
Note: Other personal details such as your name, address, and date of birth will be required later.
10bet App Registration
At the time of writing, the sportsbook has an Android app but no iOS app. Android users can complete registration using the 10bet app.
iOS users are encouraged to use the mobile website option.
For Android Users
Users on the Android platform can complete the registration via the app in a simple manner by following these steps:
Download and install the app from the Google Play Store.
Launch the app on your device.
Select the Join Now option in the top-right corner of the app.
Create an account by inputting your mobile number and PIN.
Assent to the T & C's by ticking the checkbox and hitting the Join Now button beneath.
Complete KYC details.
For iOS USers
iOS users can temporarily make do with the mobile version of the desktop site.
Hopefully, the iOS app becomes available soon. While we await that, follow this guideline to open an account with the bookmaker:
Visit the Mobile Site.


Click Join Now at the top right corner.


Create Account.

Complete the form with the necessary details – mobile number and PIN. Read the T & C's, tick the corresponding checkbox and open an account by clicking Join Now.


Complete KYC (Know Your Customer) details.

Head over to the account section indicated by the profile icon in the upper right corner. Choose Account Verification and upload the required documents – identity card, address, and statement of account.
10bet Registration Bonus
Users can enter the 10bet bonus code during 10bet registration if there is one. After that, they can claim the 150% welcome bonus on the first three deposits. 
How to Verify a 10bet Account?
Having completed the sign up, the 10bet Kenya registration continues with the account verification.
Locate the Account Verification by hovering over the profile icon at the topmost right corner of the website. Upon clicking this, the account user is redirected to a new page.
The user is required to upload certain documents to complete account verification. They are:
Means of identification – Passport, ID card, driving licence.
Proof of Address.
Birth certificate.
Bank statement or statement of account.
Next-to-face-ID photo.
Note: account holders should pay attention to the acceptable document formats
10bet Kenya Registration Requirements
To register with 10bet Kenya, there are a few requirements that you need to meet. These include:
Age
The user must be at least 18 years old to register and gamble – in line with the law in Kenya.
Residency
Users must be a resident of Kenya and provide a valid Kenyan mobile phone number during the process of registration.
Personal details and documentation
Punters will need to provide their personal details. These include full name, date of birth, and residential address during the registration.
This will be done by providing identification documents to verify accounts – an ID card, birth certificate, bank statement, and proof of address. This is a requirement by the Kenyan government to ensure responsible gambling and prevent fraud.
Promo code (optional)
If you have a valid promo code, you can enter it during the registration.  This way, users can claim any available bonuses – welcome bonus, free casino games, free bets and so on.
With these in place, you can sign up for a 10bet account and participate in the exciting world of sports betting in Kenya.
Crucial to note that providing false information while completing registration can result in account suspension or closure. Therefore, it's essential to ensure that all the information you provide is accurate and up-to-date.
Why Should I Register on 10bet Kenya?
With there being many betting franchises, bettors usually opt for operators that offer the best packages – bettors in Kenya are no exception to this. In our 10bet review, we have endeavoured to highlight seven reasons why you should consider registering with 10bet Kenya, including:
Wide selection of sports
Currently, they offer 28 sports to bet on, including soccer, basketball, tennis, rugby, and many more. This means you have a diverse selection of events to choose from.
Competitive odds
Punters are open to a world of competitive odds spanning various sports.
User-friendly mobile app and website
Users can easily navigate the website. In addition to that, android users can readily place their bets on the go via the mobile app.
This means players can bet from their convenience anywhere and at any time.
Bonuses and promotions
The platform offers various bonuses and promotions to new and existing customers, including welcome bonuses, free bets, and casino game offers.
Secure platform
Licensed and regulated by the Betting Control and Licensing Board (BCLB), the platform is safe and ensures that your personal and financial information is secure.
Effective customer support
The support team is available 24/7 and is reachable via email, live chat, and telephone. The support team is knowledgeable and professional, and they can provide assistance in a variety of languages, including English and Swahili.
Efficient payment method
The platform offers lightning-quick and easy payment methods. This is despite the fact that the only supported payment methods are M-PESA (Safaricom) and Airtel Money.
Overall, 10bet Kenya provides a reliable and user-friendly platform for sports enthusiasts to bet on their favourite events.
How to Log in to 10bet?
Logging into your 10bet account is simple and straightforward. Do this by following this step-by-step procedure:
Go to the betting website.
Click on the Log in button.
Input your login details (phone number and PIN) in the window that pops up.
Click the Log in button beneath the text fields.
Potential Problems with 10bet Registration
While 10bet Kenya strives to provide a smooth and hassle-free registration procedure, there are a few potential problems that customers may encounter, including:
Incomplete or inaccurate information
Providing incomplete or inaccurate information during registration can cause delays in the verification process or result in account suspension.
Document verification issues
Registration issues can also surface if there are issues with verifying your identification documents. This can cause unplanned delays.
In some cases, you may need to provide additional or alternative documents to complete the verification process.
Technical difficulties
Occasionally, there may be technical difficulties with registration – issues such as website downtime or slow loading times. If this happens, you may need to try again later or contact customer support for assistance.
Bonus codes not working
If you have a bonus code and it's not working during the registration process, you may need to contact customer support to resolve the issue.
Restricted countries
10bet Kenya may not be available in all countries, and there may be restrictions on certain regions or jurisdictions. It's important to check if the platform is available in your location before attempting to register.
Overall, while there are potential problems that customers may encounter during registration, most issues can be resolved with the help of customer support. If you experience any difficulties, we recommend reaching out to 10bet Kenya's customer support team for assistance.
10bet Registration Kenya FAQ
Are you still wondering if 10bet Kenya is the right sports betting platform for you?
We have compiled a list of frequently asked questions to help you make an informed decision. From account activation to funds deposit, here is what you need to know before signing up.
Activate the account by completing account verification. After this, you can make deposits, place bets, participate in promotions and withdraw winnings.
Users can make deposits via mobile money. Currently, Safaricom, Airtel and Playbill Tigo M-PESA are the supported methods.
As earlier highlighted in this review, it is safe to register with this operator.