The Mozzartbet jackpot predictions are the jackpot games presented by one of the biggest bookmakers in Kenya- Mozzartbet.
Valid in

Ksh 200,000,000 – MOZZART SUPER GRAND JACKPOT
Player Specials Daily
Licensed by MGA
24/7 Customer Support
18+.The Mozzart Super Grand Jackpot competition consists of predicting the final results of 20 football matches selected in advance by Mozzart Bet. The minimum and maximum number of games in the ticket is 20. Participants in this competition are obliged to pay tickets before the start of the first match in order to qualify themselves for Mozzart Super Grand Jackpot. The stake is fixed and amounts to 50 Kshs for one combination. It is allowed to bet on several combinations, double or triple outcome (double or triple), provided that each new combination costs 50 Kshs. T&Cs Apply.
You can also check out other Mozzartbet bonus options on the bookmaker's website.
---
---
Mozzartbet Jackpot Predictions Today
There is a weekly jackpot prediction and a daily jackpot prediction on the bookmaker's website.
Mozzartbet Super Jackpot Prediction
The Mozzart super jackpot prediction is the daily jackpot and contains jackpots for daily matches. The cash prize is 20,000,000 KES.
The super jackpot prediction is a match-winner jackpot where you select the winner in a three-legged prediction, a home win, an away win, or a draw.
This Mozzart daily jackpot prediction contains 16 matches preselected by the Mozzartbet team, and it costs 20 KES.
There is a consolation prize if you have 15, 14, or 13 correct predictions. The bookmaker determines this consolation prize.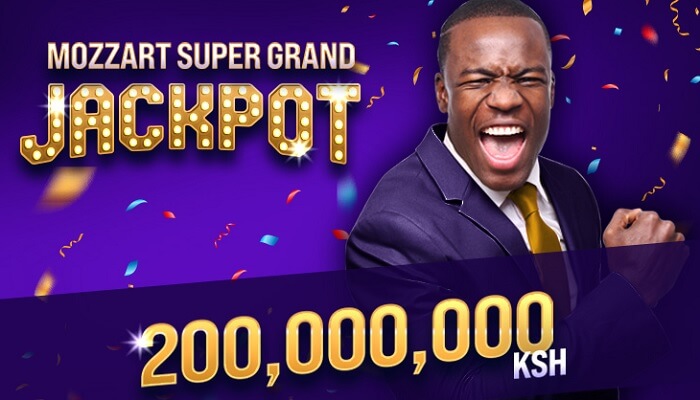 Mozzartbet Super Grand Jackpot Prediction
The Mozzartbet super grand jackpot prediction is the weekly jackpot of the bookmaker. This jackpot prediction contains 20 matches from the top leagues in the world preselected by the bookmaker.
The cash prize is 200,000,000 KES. The jackpot prediction stake is just 50 KES.
To participate in the Mozzartbet super grand jackpot prediction, you have to make the correct match winner predictions for the whole 20 matches, stake your 50 KES and pray that all your stars align.
However, making 1 correct prediction is hard, not to mention 20 correct predictions. That is why there are consolation prizes.
For 0, 17, 18, and 19 correct predictions, bonus prizes are available. You can win them if you come that close. But if you manage to achieve the impossible and get the 20 predictions correctly, you win 200,000,000 KES.
If there is more than one winner, then the winners will share the prize money equally.
What are Mozzartbet Tips?
When you are betting whether the Mozzart daily jackpot prediction or the Mozzartbet jackpot predictions for the weekly jackpot, there are some betting tips that can be helpful.
These betting tips are important to increase your chance of winning. Here are some of the Mozzartbet prediction tips.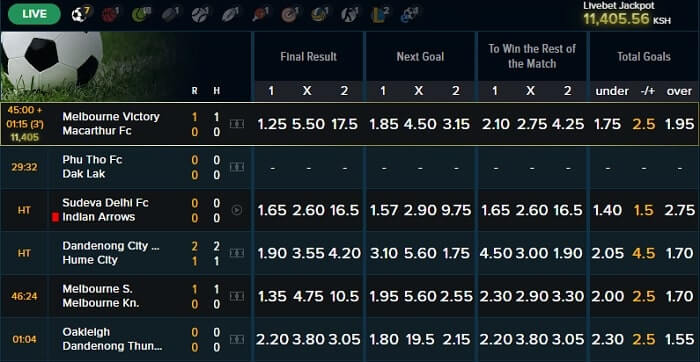 Research
Research is crucial to any form of betting. To do proper research, you must know the team's current form, head-to-head statistics, the tournament in which they compete, and even their upcoming games.
Research always helps you make data-informed decisions, and since bets do not respond to emotions but real-life statistics, this can help a lot to move the needle.
Get up to Date News on the Team and Individual Players
In addition to background research, you must be informed of current news and information on the teams and players.
In team sports like football, basketball, and cricket, the total is greater than the sum of the parts. As a result, a variety of things impact the game.
Player injuries, formation changes, or a general loss in form may all affect the outcome of a game. For example, if one of the team's best players is injured, the game will almost surely swing in the other team's favor.
You can get this information on sports blogs, during press conferences before games, or on the team's website.
Develop a Betting Strategy
Don't just bet based on some gut feeling, have a betting strategy. Having a betting strategy greatly increases your chance of making winning predictions.
You may either create one on your own or seek out various betting groups and learn from the finest. Another advantage of using a betting strategy is that you may cut down on the amount of time you spend on predictions since you have a template to work with.
Keep a Betting Journal
A useful addition to your betting strategy is a betting journal. All of your previous predictions, mistakes, wins, near wins, and wins are recorded in a betting journal. And with a betting journal, you can keep refining your betting strategy.
By keeping a journal to refer to, you can see what is working, what needs to be improved, and what has to be eliminated. You can also build new strategies when you have a history of what has worked and what hasn't.
Mozzartbet Prediction FAQs
We have come to the end of the Mozzartbet jackpot predictions. Here are some commonly asked questions about the jackpot predictions.
If you have any more questions, don't hesitate to get in touch with the customer care team at Mozzartbet.
How do you win a jackpot on Mozzartbet?
There are several betting tips that can improve your chances of winning the Mozzartbet predictions jackpot, but none of them can guarantee a win. Winning a 16 or 20-leg jackpot is very very hard. Just follow our betting tips, pray that your stars align and enjoy the games whatever the outcome.
How to bet a jackpot on Mozzartbet?
To bet on the Mozzartbet jackpot prediction, all you need is a Mozzartbet account and a deposit to cover your stake for the jackpot betting. Then, head to the jackpot page and choose the super jackpot or the super grand jackpot. Next, make your prediction picks and then stake either 20 KES or 50 KES depending on the jackpot offer you are playing.
Is there a Mozzartbet jackpot bonus?
There is a Mozzartbet jackpot bonus. This is the jackpot prediction that is available to every customer.
What happens when a Mozzartbet jackpot game is postponed?
Mozzarbet predictions jackpot offers two versions, the super jackpot, and the super grand jackpot. If a game is postponed in the super jackpot, the prize becomes 6,000,000 KES, 2 games postponed 2,000,000 KES, 3 games postponed 500.000 KES. In the super grand jackpot, if one game is postponed, the prize becomes 60,000,000 KES, two games postponed is 20,000,000 KES and 3 games postponed becomes 5,000,000 KES.