With sports betting, weekly jackpots, virtuals, lucky numbers and casino games, MozzartBet Kenya is among the best betting sites in the country. Find out everything you need to know, including how to download the MozzartBet app, its sports, markets, odds and promotions, to decide if it's right for you.

50% First Deposit up to KSh 5,000 in Free Bets
18+ | Commercial Content | Wagering and T&Cs apply | For new customers only.
---
Contents
---
MozzartBet Kenya Review: Our Opinion
Like all betting sites, MozzartBet Kenya has its own strengths and weaknesses. On the positive side, the MozzartBet jackpot bonus offers amazing payouts. Furthermore, this betting company has mobile apps for both iOS and Android users, as well as live betting on a plethora of events, and modest live streaming service.
MozzartBet Kenya also provides a selection of localized payment methods, allowing bettors to deposit, bet and withdraw using Kenyan shillings. There are some areas where this betting company could improve. Firstly, it only lists around 15 sports for betting, which is fewer than most other bookmakers. In addition, MozzartBet Kenya does not offer features like edit bet and live stats on all games, which have become popular in recent years.
What is Good about MozzartBet?
Licensed and Regulated by the Betting Control and Licensing Board of Kenya.
KSH 20 million Super Jackpot football prediction game.
iOS and Android mobile apps.
Wide range of betting markets on top events.
Lucky number games and an online casino is also available.
In-shop deposits and withdrawals.
What is Wrong about MozzartBet?
Less than 15 sports are open for betting.
Only a selection of live events has match visualisation functionality.
Desktop platform feels cluttered.
How to Login at MozzartBet?
To begin your adventure with MozzartBet Kenya, you need to know how to create an account and how to navigate the MozzartBet login. Follow our step-by-step tutorial below, and you'll be ready to place your first wager in only a few minutes.
MozartBet Registration
To bet online, you need a betting account. Follow our MozzartBet registration guide below.
Click the link on this page, which will take you to MozzartBet.
Hit the "Register" button.

On the sign-up form, enter your mobile number and create a password. Also, check the boxes to state that you agree with the terms, you are 18 or over, and the captcha to show you're not a robot.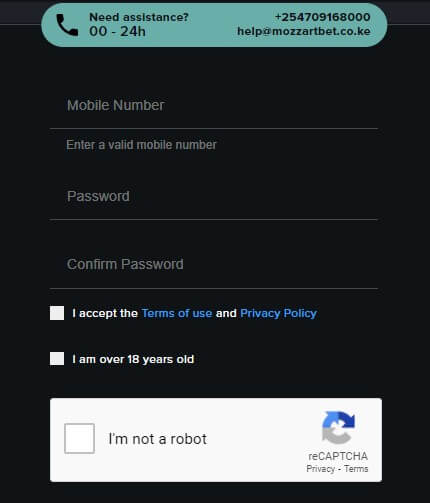 You'll receive an SMS from MozzartBet Kenya with an activation code.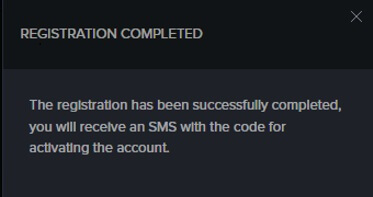 Click "OK" on the registration completed pop-up and enter the PIN code you received.
Lastly, click "Activate Account."
MozzartBet Login
Having completed the registration and activated your account, you can now proceed onto the MozzartBet login.
Open the website.
In the top-right corner (desktops) or the centre (mobiles), you'll see the MozzartBet login area.
Enter your mobile number and your password (the one you created when registering the account).
Click "OK."
If you forget your password, tap the "Forget your password?" link. A box will appear where you type in your mobile number and a new code is sent to you.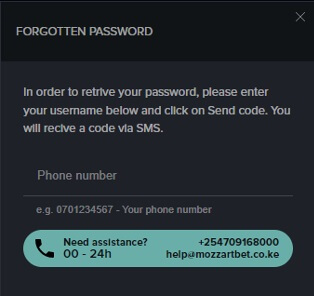 The MozzartBet login will now work, and you can change your password.
Does MozzartBet have a Bonus?
There are many bonuses and promotions available for customers at MozzartBet Kenya. The offers cover sports betting, casino gaming, and virtuals, so you're certain to find something that appeals to you.
Focusing on the betting offers, MozzartBet has a cashback bonus offer, which is run in conjunction with M-Pesa. Quite simply, customers get cashback credit added to their account after making a deposit. However, it should be noted that this offer is set to expire in a few months, so we'll keep you posted when it changes.
Existing bettors are treated to a profusion of promotions, which range from winning brand new cars to weekly cashback refunds and the MozzartBet jackpot bonus game worth up to KSH 20,000,000. Other MozzartBet bonus offers include Super-Charged Odds and the world's biggest odds on selected events every day.
How to Download the MozzartBet App?
For a personalised and customisable betting experience, using the MozzartBet app is the way to go. Although the web-based mobile betting platform is efficient, we found the MozzartBet app delivers a smoother experience, and it's packed with exciting features. There are two apps – one for Androids and the other for iOS devices. Here we guide you through the download procedure for both options.
Downloading the Android App
It's quick and easy to download the MozzartBet app for Android devices. A point of note is that MozzartBet uses "Get it on Google Play" buttons, which may confuse some new bettors. To clarify, the app isn't available in the Play Store, which is common for many gambling apps, so you must download and install the APK file.
Go to the website using your mobile device and scroll to the bottom of the page.
Tap the "Get it on Google Play" button. This takes you to a new page, where you see the same button. Tap this to download the APK file.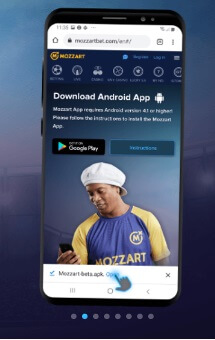 Once downloaded, open the file.
A message will pop up saying that your phone cannot install apps from unknown sources – tap the "Settings" button.
Move the toggle to "Allow from this source."
Hit the back arrow and tap "Install app."
After the app is installed, you can log in and enjoy using it.
Downloading the iOS App
The Apple App Store is more welcoming of gambling applications, so the download process is the same as any other app.
Visit MozzartBet and create your account.
Scroll to the bottom of the page and tap "Download on the App Store."
You'll be directed to the Kenyan App Store.
Check your device is compatible. It must be running iOS 13.0 or later.
Hit the "Download" button.
It will install automatically.
Once complete, you can open the MozzartBet Kenya app, log in, and bet.
MozzartBet Predictions
Customers at MozzartBet Kenya can wager on around fifteen different sports covering events worldwide. Although this isn't the most exhaustive betting site, all the mainstream sports, such as football, basketball, ice hockey, tennis, esports and American football, are available.
So, how can you more accurately predict the outcomes of matches and events? Our betting experts have compiled some top MozzartBet tips that will help.
Know your sport
There are 1,000s of betting opportunities available every day at MozzartBet, but that doesn't mean you should take them all. As a punter, you have to bet smart, and that means knowing the ins and outs of the sport you intend on wagering your hard-earned cash on.
Use MozzartBet's Statistics
Research is the key to finding the best MozzartBet predictions, and for that, you can use the statistics pages that are readily available on the website. Powered by Sport Radar, you can find analytical breakdowns of recent form, head-to-head results, referees, conditions, and much more. It's also possible to analyse individual metrics within a game like possession, shots on goals, dangerous attacks, corners, and so on.
Great the Best Odds
To get top betting value, you need to get the best odds on the market. There are a few ways you can do this at MozzartBet Kenya. You can keep an eye open for the matches that are promised to have the world's biggest odds. Another promotion is Super-Charged Odds. Here you create an accumulator bet and add in one market from the super-charged list (found in the menu).
There are three types of super-charged odds: 4+1, 6+1, and 8+1. If you want to place a 4+1, you must choose 4 bet selections from the regular markets, and then you can choose 1 bet with super-charged odds. The 8+1 offers the largest boost, but, of course, that's the most difficult wager to win.
Additionally, you can calculate the bookmaker's margin to see if the odds are good value. This can be done as follows:
Using decimal odds, complete the calculation: 1 / betting odds x 100 = implied probability
Sevilla: 2.50 [1 / 2.50 x 100 = 40%]
Draw: 3.25 [1 / 3.25 x 100 = 30.77%]
Barcelona: 2.90 [1 / 2.90 x 100 = 34.49%]
Add the percentage totals together: 40 + 30.77 + 34.49 = 105.26%
If the market was completely fair (true odds), it would be 100%. Anything above this total is known as the bookmaker's margin. In this example, the margin is 5.26%, which is acceptable.
MozzartBet Paybill Number
There are limited payment options available at MozzartBet Kenya – it is crucial to keep your MozzartBet paybill number handy. The current options are M-Pesa and cash deposits. Let's take a closer look at each method.
M-Pesa
It's quick and easy to make deposits using M-Pesa by following these steps:
Open M-Pesa on your device.
Go to "Lipa Na M-Pesa."
Select M-Pesa Paybill.
Enter the M-Pesa Paybill number: 290059.
Type in the amount you want to deposit and click "OK."
You'll then receive an SMS confirming the transaction.
Deposit at a Shop
With many MozzartBet shops spread across Kenya, it's straightforward to make cash deposits into your online account. All you have to do is go into your local retail bet shop and one of the cashiers will assist you.
Please note that you will need your betting account number and the money (in cash) to complete the deposit.
Withdrawals
Bettors can withdraw their winnings from MozzartBet Kenya using several options:
Via SMS: send a text W#AMOUNT#PINCODE to 29990.
Pesa Mkononi via the website: log into MozzartBet, then click on Account>Withdraw>M-Pesa Withdrawal. Type in how much you want to withdraw and click "Confirm."
Betting Shop: follow the same instructions as above, but choose Betting Shop Withdrawal. Enter the amount you want to withdraw and state the shop that you will collect from. After clicking "Withdraw," you'll receive a code, which you take to the betting shop to receive your cash.
Customer Service
MozzartBet Kenya does not offer live chat, which is somewhat surprising as most other online betting sites provide this service. Still, there are multiple ways that customers can get in touch if they have a query.
Telephone: +254-709-168-000 or WhatsApp: 0713-665-355
Email: help@mozzartbet.co.ke
Facebook: Mozzart Bet Kenya
Instagram: Mozzart Bet Kenya
Twitter: @Mozzartbetkenya
MozzartBet Kenya FAQs
Overall, MozzartBet Kenya is a respected online betting site. While it has a few weaknesses, its strengths most certainly outnumber them. We've added a few common questions for more information.
Does MozzartBet give a bonus?
MozzartBet Kenya pampers new and existing customers with a variety of bonuses and promotions. However, this betting company likes to keep things fresh and exciting, which means it changes a selection of its offers every few months.
Can I trust MozzartBet?
Yes. MozzartBet Kenya Limited is licensed by the Betting Control and Licensing Board (BCLB) of Kenya, which is in line with the Betting, Lotteries, and Gaming Act, Cap 131, laws of Kenya. This highlights that MozzartBet is a legit betting company and one that you can trust.
How to claim the Mozzart bonus?
MozzartBet customers can claim the sign-up offer simply by making a real money deposit. You can check on the "Promotions" page for details of the recommended payment methods and other terms and conditions before you claim.
Why is MozzartBet not working?
There are various reasons why MozzartBet may not be working. Firstly, we advise checking your internet connection to figure out where the issue is. If you have a good internet signal and MozzartBet will still not open, then its website may be down. Check social media for information as this tends to be the place where people first report it.
Our Mozzartbet Kenya review
Registration

Bonus

Mobile

Deposit